Sugar, Spice And All Things Nice With These Bigelow Tea Recipes!
Posted by admin on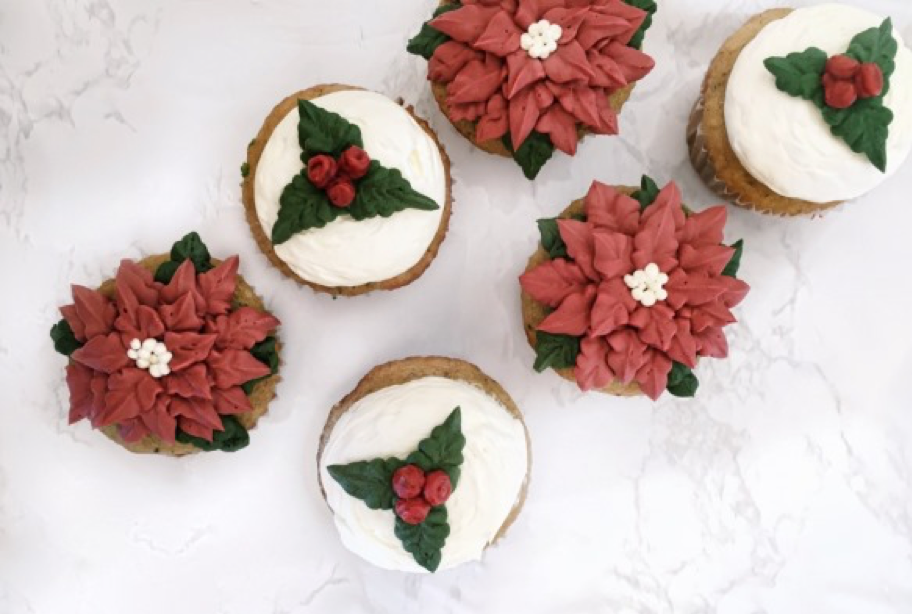 Picture this: Youre gathered in the kitchen with your family and preparing for quite the holiday feast! Or maybe youre all in matching pajamas (gotta love that tradition) and the fire is roaring or youre snuggling on the couch with a cup of tea while watching movies whatever cozy image youve conjured, dont forget the food! (And, of course, the teapot for Bigelow Tea!) Here are a few of our favorite holiday recipes to power you through the holidays!
Peppermint Tea Cupcakes (pictured above)
Ingredients
Cupcake Ingredients:
1 cup whole milk
1 cups all-purpose flour
1 cup granulated sugar
1 tsp baking powder
tsp baking soda
tsp of salt
1/3 cup oil
2 large egg yolks, room temp
Vanilla Swiss Merinque Buttercream frosting ingredients:
5 large egg whites
1 cup granulated sugar
1/4 tsp salt
1 cups of softened butter
1-2 tbsp of lavender syrup
Instructions
Cupcakes:
Simmer milk on low and steep the Peppermint tea for about 10 minutes (do not boil), then set aside to cool. Should measure to cup of milk.

Preheat oven to 350 degrees and line cupcake tin with 12 liners.

In a large mixing bowl, sift together flour, sugar, baking powder, baking soda, and salt.
In a small mixing bowl, mix together the oil, egg yolks, and peppermint tea milk mixture. Combine of the wet ingredients with the dry ingredients, mixing until just combined, and then pour the rest of the milk mixture, mixing until just combined. Fill tins up to full and bake for about 17-19 minutes, or until golden brown and cupcakes springs lightly to touch.

Frosting:
In your mixing bowl, whisk together egg whites, sugar and salt and simmer over a
bain-marie (double boiler). Continuously whisk and scrape down the sides of mixing bowl to prevent crystallization.

Remove the mixing bowl once all of the sugar granules are dissolved (test this by
dripping some onto your fingers) and transfer to a standing mixer. With your whisk attachment, whisk the mixture on high until you reach stiff peaks, about 5 minutes.

Switch to paddle attachment (with scraper, if available), and with the mixer on low, slowly add in butter one cube at a time.

Once all the butter is incorporated, add the vanilla extract and mix on low for about a
minute. Mix in the food coloring of choice by hand, which will help knock out the rest of the air
bubbles.

Let the cupcakes sit in the tin for about 10 minutes, then transfer to a wire cooling rack to cool completely before frosting.Decorate with holiday flair!
Figs Brule with Vanilla-Eggnog Ice Cream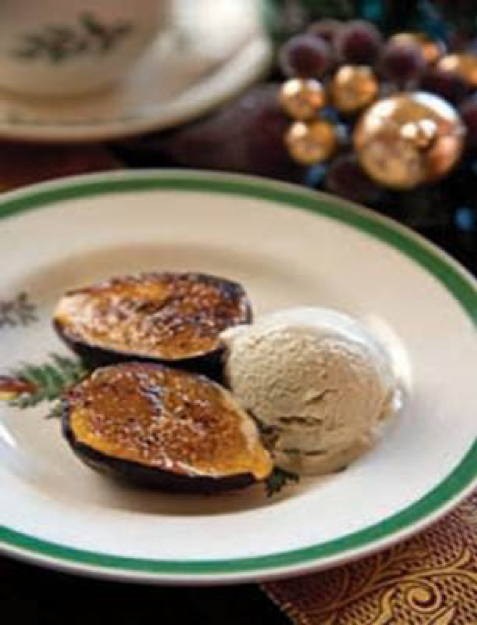 Ingredients
1 pint half-and-half
1 cup sugar
2 vanilla beans, split lengthwise and scraped, seeds reserved, divided
12 egg yolks
18 figs
6 tablespoons butter, melted
cup sugar
Instructions
In a medium saucepan over medium-high heat, combine the half-and-half, sugar, tea bags, and reserved seeds from 1 vanilla bean. Cook until the mixture just begins to boil; remove from heat, and set aside. In a medium bowl, whisk the egg yolks until smooth. Using a ladle, pour 1 cup of the hot half-and-half mixture in a slow, steady stream into the beaten egg yolks, whisking constantly. Remove the tea bags from the half-and-half, and then add the egg-yolk mixture to the remaining half-and-half in the saucepan. Cook over medium-high heat, stirring constantly, until thick enough to coat the back of a wooden spoon, or until the custard reaches 180 on an instant-read thermometer. Strain the custard through a fine-mesh sieve into a stainless-steel bowl set in an ice bath. Stir until the custard is very cold. Freeze the custard in an ice-cream maker according to the manufacturers instructions. Preheat oven to 350. Cut each fig in half, and place each half, cut side up, in a well of a muffin pan. In a small bowl, mix together the butter and reserved seeds from remaining vanilla bean. Brush the top of each fig with the butter mixture, and bake for 6 minutes. Remove figs from oven, and evenly sprinkle the cut sides of the figs with the sugar. With a culinary torch, hold the flame about 2 inches above the surface of the figs. Direct the flame in an even back-and-forth motion so that the sugar melts and browns. Serve two prepared fig halves with a scoop of ice cream.
Cranberry Apple and Orange Spice Pumpkin Pie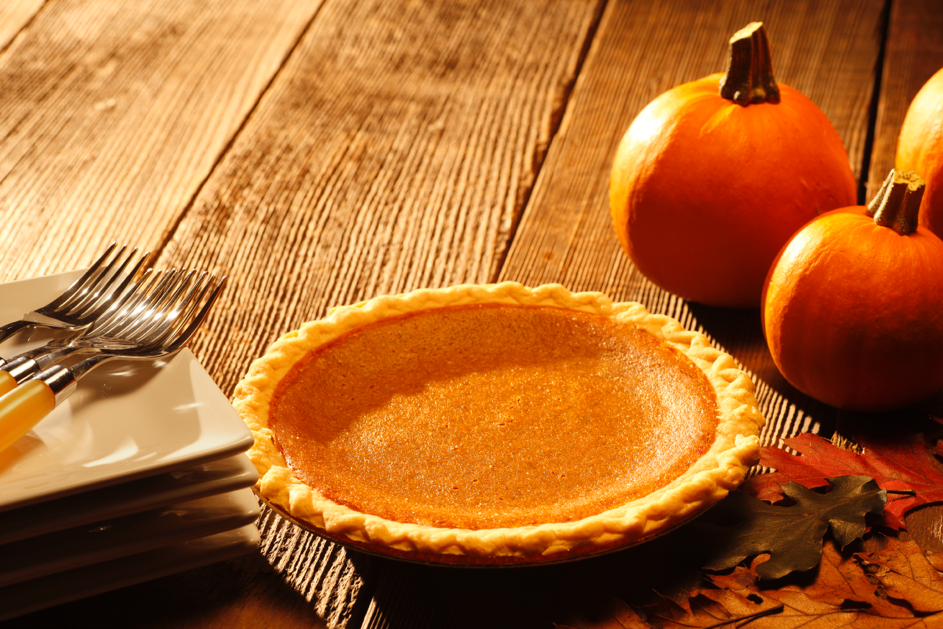 Ingredients
Instructions
Heat milk and add tea bags and let steep 15 to 20 minutes.Meanwhile whisk egg, sugar and salt together. Add pumpkin puree and blend till smooth.Slowly stir in tea steeped milk and blend till smooth. Pour into prepared pie shell and bake till center does not move when lightly shaken. Pies may take 30 to 40 minutes, shallower squares may take 20 to 30 minutes.
White Chocolate Mint Mousse Tea Cups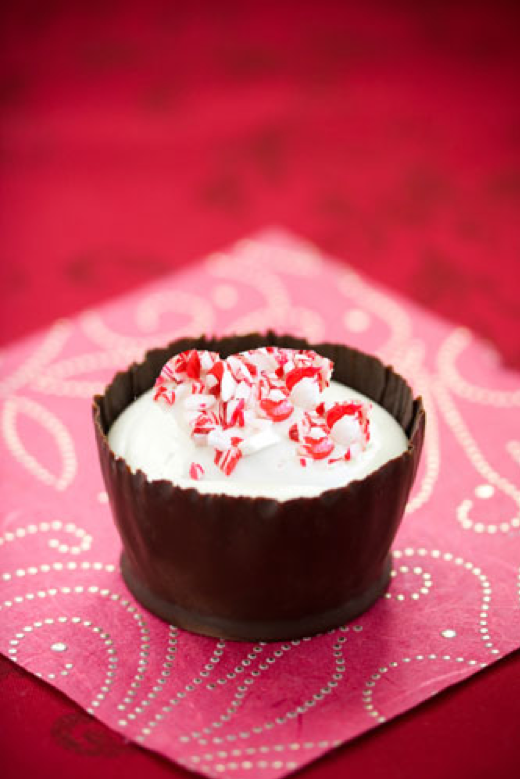 Ingredients
1- cups bittersweet or semisweet chocolate chips
6 ounces white chocolate baking chips
2 cups whipping cream, divided
3 large egg yolks
Scant cup granulated sugar
teaspoon salt
1 teaspoon pure vanilla extract
2 drops red food color
2 tablespoons crushed candy canes (about 6 miniature candy canes)
Instructions
Line 24 mini muffin cups with petit four paper cups. In 1-quart saucepan, melt bittersweet or semisweet chocolate chips over low heat, stirring frequently. Spoon about 2 teaspoons of the chocolate into each paper cup. With back of small measuring spoon, spread chocolate up sides to within inch of the top. Chocolate should be warm enough to spread. Refrigerate about 20 minutes or until completely set. Carefully remove paper cups from chocolate cups. Meanwhile, melt the white chocolate chips in a double boiler over simmering water. Heat cup of the whipping cream and the tea bags in a saucepan just until it begins to boil. Carefully remove tea bags and squeeze excess moisture from them into the pan. Whisk together the egg yolks, sugar and salt until pale yellow. Add the hot cream-tea mixture to the eggs, a little at a time, to temper, whisking constantly. Pour the custard into the melted chocolate while still over the double boiler and whisk until smooth. Stir in the vanilla and remove from the heat; cool mixture. Beat 1- cups of the cream to whipped cream consistency. Whip half the cream into the tea mixture and then fold in the remaining cream. Spoon or pipe whipped cream mixture into chocolate cups. Refrigerate until serving. Just before serving, sprinkle with candy.
---
Share this post
---
---