Gluten-Free Vegan Peanut Butter Blossoms
Posted by admin on
Gluten-Free Vegan Peanut Butter Blossoms made with almond flour and arrowroot starch and dairy-free chocolate. Vegan too!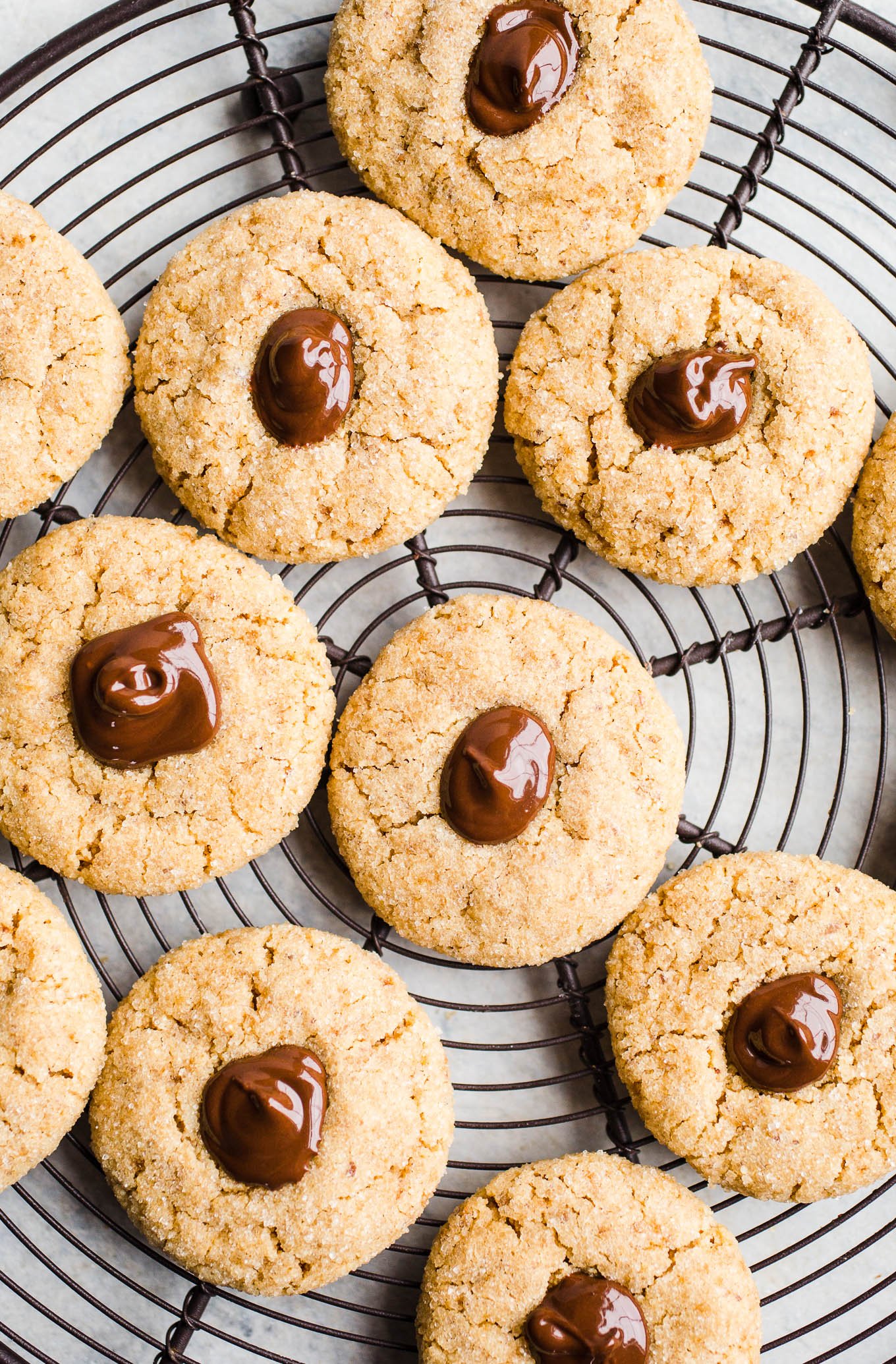 Its cookie season.
Ive been taking casual polls in conversation over the last couple months regarding favorite Christmas cookies. I have found that the simplest cookies seem to win in these polls, and for good reason.
These gluten-free peanut butter cookies with a kiss of chocolate in the middle made the list. Rolled in organic cane sugar, they sparkle for the season.
Gluten-Free Vegan Peanut Butter Blossoms Ingredients
Now, traditional peanut butter blossom cookie recipes use a Hersheys kiss in the middle. I am waiting for the day that there is a dairy-free Hersheys kiss, but until then, in this recipe well make our own.
Most gluten-free blossom recipes use an egg, but to keep these egg-free and vegan, a flax egg is used instead.
Heres the major ingredients youll need:
Ground flaxseed
Coconut sugar
Organic cane sugar
Natural peanut butter
Vegan butter
Almond flour
Arrowroot starch
Vanilla extract
Dairy-free chocolate chips
Coconut oil
Making Vegan Peanut Butter Blossoms
The trick in gluten-free vegan baking is finding the right ingredients to act as binders. Usually, for gluten-free baked goods, an egg works wonderfully. Without the egg, relying on other starches and binders such as flaxseed or chia seeds are necessary.
Due to this delicate balance, there are a couple tips I want to share for this recipe.
First, make sure your peanut butter is well stirred. Natural peanut butters differ in oil content, so it is important that peanut butter and oil are completely incorporated before measuring for the recipe. For some natural peanut butter favorites, check out this review from Minimalist Baker.
Second, chilling this cookie dough helps immensely. Chilling the dough will prevent the cookies from spreading as much. With this particular dough, chilling also makes it less sticky for rolling.
How Long do Peanut Butter Blossoms Last?
Store these gluten-free vegan peanut butter blossoms in an airtight container at room temperature for up to 3 days.
For more Christmas cookie inspiration, check out Cassidys cut-out keto sugar cookies!
More Peanut Butter Recipes
Gluten-Free Peanut Butter Chocolate Banana Bread
Peanut Butter Maple Scotcheroos
Gluten-Free Vegan Peanut Butter Blossoms
Gluten-Free Vegan Peanut Butter Blossoms made with almond flour and arrowroot starch and dairy-free chocolate. Vegan too!
1 tablespoon ground flaxseed
3 tablespoons warm water
1/4 cup (35g) coconut sugar
1/2 cup (112g) organic cane sugar (divided )
1/2 cup peanut butter (stirred well)
1/2 cup vegan butter
1 teaspoon pure vanilla extract
2 cups (201g) almond flour
2 tablespoons arrowroot starch
1/4 teaspoon salt
1/2 teaspoon baking soda
1 cup dairy-free chocolate chips
2 teaspoons coconut oil
Preheat oven to 350 degrees Fahrenheit. Line 2 baking sheets with parchment paper. In a small bowl, combine ground flaxseeds and 3 tablespoons water. Set aside for 3-5 minutes to gel.
In a medium bowl, combine coconut sugar and a 1/4 cup organic cane sugar, followed by peanut butter and vegan butter. Using an electric mixer on medium speed, beat to combine. Then add flax egg, followed by vanilla extract. Mix to combine.

In a second medium bowl, combine almond flour, arrowroot starch, salt, and baking soda. Whisk to evenly combine. Add dry ingredients to wet ingredients and stir until ingredients are incorporated, then use your hands to mix in the remaining dry ingredients. Using your hands is the best way to fully mix the ingredients into a uniform dough. Place dough in refrigerator to chill for at least 30 minutes.

Place remaining 1/4 cup organic cane sugar on a plate. Use a tablespoon to scoop out dough. Roll dough in-between your hands into a ball. Place on plate with sugar, roll to coat, then place on prepared baking sheet.

Bake for 10-12 minutes, or until cookies are set on the outside. Remove from oven and wait at least a minute before using your index finger to press down slightly in middle of cookie. Allow cookies to cool on baking sheet for 2-3 minutes then transfer to a wire rack to cool.

Once cookies have completely cooled, place dairy-free chocolate chips in a glass bowl. Microwave at 30-second intervals, stirring after each, until almost all chocolate has melted. Add coconut oil and stir until remaining chocolate chips and coconut oil have melted.

Working quickly, transfer melted chocolate to a plastic sandwich bag. Make a tiny cut in the corner of the bag. Use bag to pipe chocolate into the divets made in the middle of the cookies. Allow chocolate to completely set before serving or storing.

Store in an airtight container at room temperature for up to 3 days.
The post Gluten-Free Vegan Peanut Butter Blossoms appeared first on Salted Plains.
---
Share this post
---
---