Vegan Tsoureki (Greek Easter Bread)
Posted by admin on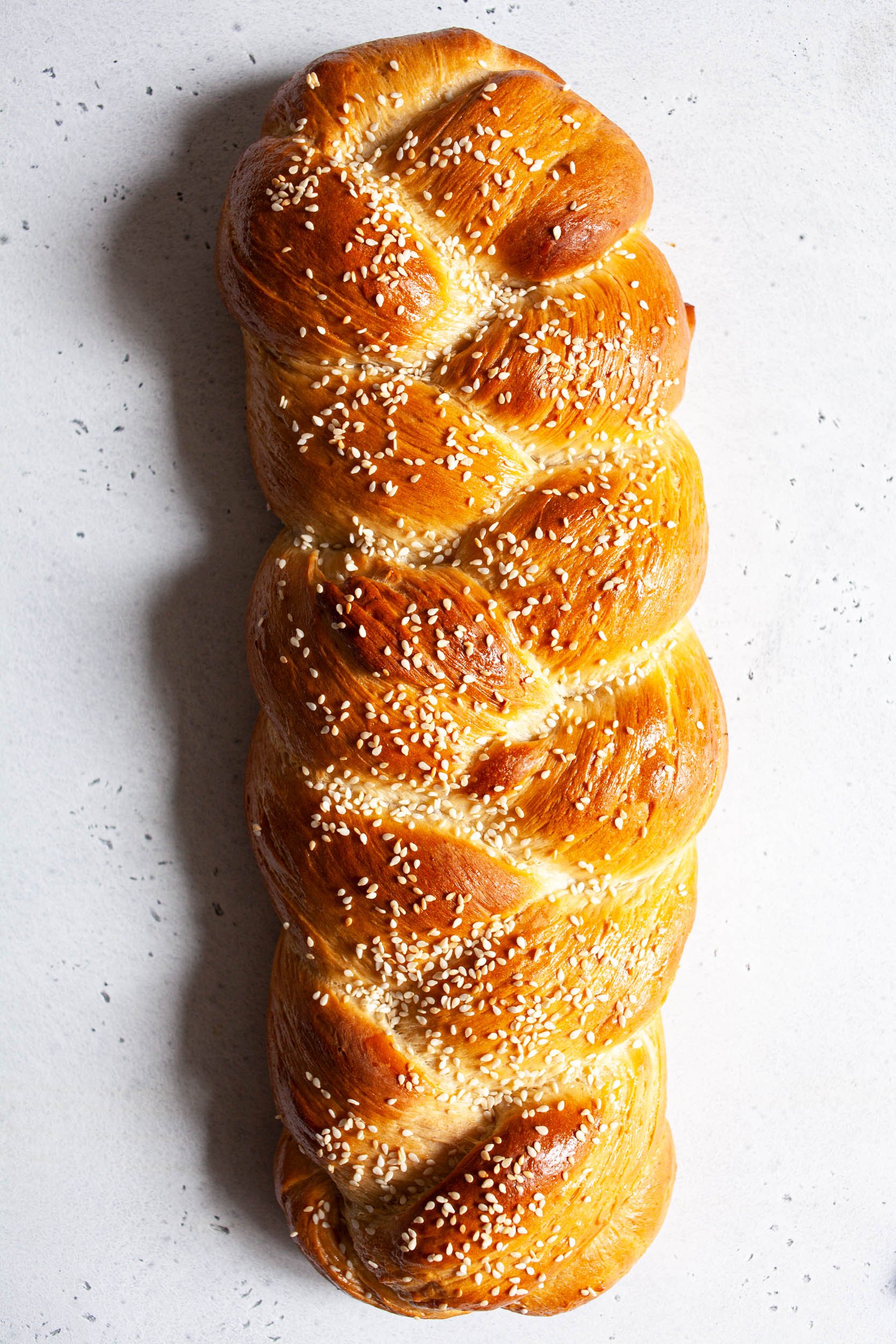 Last weekend, I made my favorite carrot cake for Easter Sunday. Today is Orthodox Easter, which is the Easter I grew up with, and it felt right to once again share something that I associate strongly with the holiday. I couldn't share anything but tsoureki (τσουρέκι).
Tsoureki doesn't have to be Easter bread. It's a sweet, Greek holiday bread that's also shared at other times of the year. When I was growing up, we got it twice yearly: once on the first day of each New Year, and once on Greek Easter. The New Year's loaf had a coin inside, wrapped in wax paper. My mom and I would cut a slice for each member of our nuclear and extended family. If the coin landed in your slice, it was thought to bring a year of filled with especially good luck. (Once, when I complained to my mom that I never got the coin, she told me that her father had sardonically joked that it was actually a bad omen.)
At Easter, we got tsoureki with red-dyed hard boiled eggs baked right into the bread. The bread came from our local Greek bakery, but my Yaya also made a giant batch of the eggs for my favorite game. This was a game so fun that I didn't mind the fact that I had to stay awake until midnight every Greek Easter (I was a morning person even then). It consisted of everyone picking an egg, and then cracking that egg against the egg of another person at the holiday table. If you initiated the crack, then your egg would descend from the top, and you'd exclaim "Chistos Anesti!" (Χριστός Ανέστη, "He is risen!")
If your egg stayed intact, while the other person's cracked and caved inward, he or she would then try cracking the good side of the broken egg over the side of your egg that had been lucky. The person would respond, "Alithos Anesti!" (Aληθώς ανέστη, "He is risen indeed!"). And if your egg cracked first, you'd favor your remaining good side for the next round.
It all sounds pretty confusing now that I write it out, but it was fun. I remember the few times when I had an egg that seemed indestructible, how exciting it was to keep testing its strength. I especially remember my grandmother's loud, jubilant cries of "Christos Anesti!" and "Alithos Anesti!" No one laughed more than she did when an egg was either especially sturdy or especially feeble. My Yaya played this game the way she did everything: larger than life, full of gusto.
It's funny to write about all of this, because a lot of these traditions have fallen away since my childhood. It's not a game for two, and neither my mom nor I hosts anyone for the holiday. If we did, I wouldn't be partaking in the egg game anymore as a vegan (though I'm sure I could come up with a creative alternative).
Still, my mom and I keep our traditions alive in small ways. We always celebrate Greek Easter together, even if that means a nice meal. And my mom still orders Tsoureki for herself and, so thoughtfully, for her family. While my Grandmother's friends were still alive, she even took the time to order tsoureki for all of them and hand deliver it to their homes.
As I get older, I'm aware of the fact that I'm becoming a bearer of tradition myself. I'm not sure how great I'll be at this job, since in my book I'll never be as thoughtful (in this particular way) as my mom is. She's better at planning holiday stuff to begin with, and she's much better at keeping in touch with people than I am.
What I can bring to the table is my crazy love of bread baking, which isn't my mom's thing and wasn't my Yaya's thing, either. This is a strange year for me to take up the torch of holiday observances, since I'm not spending Greek Easter with any of my family physically. But the crisis has given me time to reflect on what matters, and this has included looking back on my upbringing and appreciating some traditions that I've lost touch with. It makes me want to do something symbolically for this quarantined Greek Easter, and sharing tsoureki is what I'm best suited to do.
Tsoureki is an enriched dough that reminds me of challah. It's a little airier than challah, but the fundamentals are similar, and it's also braided. It can be flavored in a few different ways: some recipes call for orange or lemon zest, some for raisins or almonds, some for sesame seeds on top. Tsoureki almost always includes one or both of mahlep and mastic, specialty spices.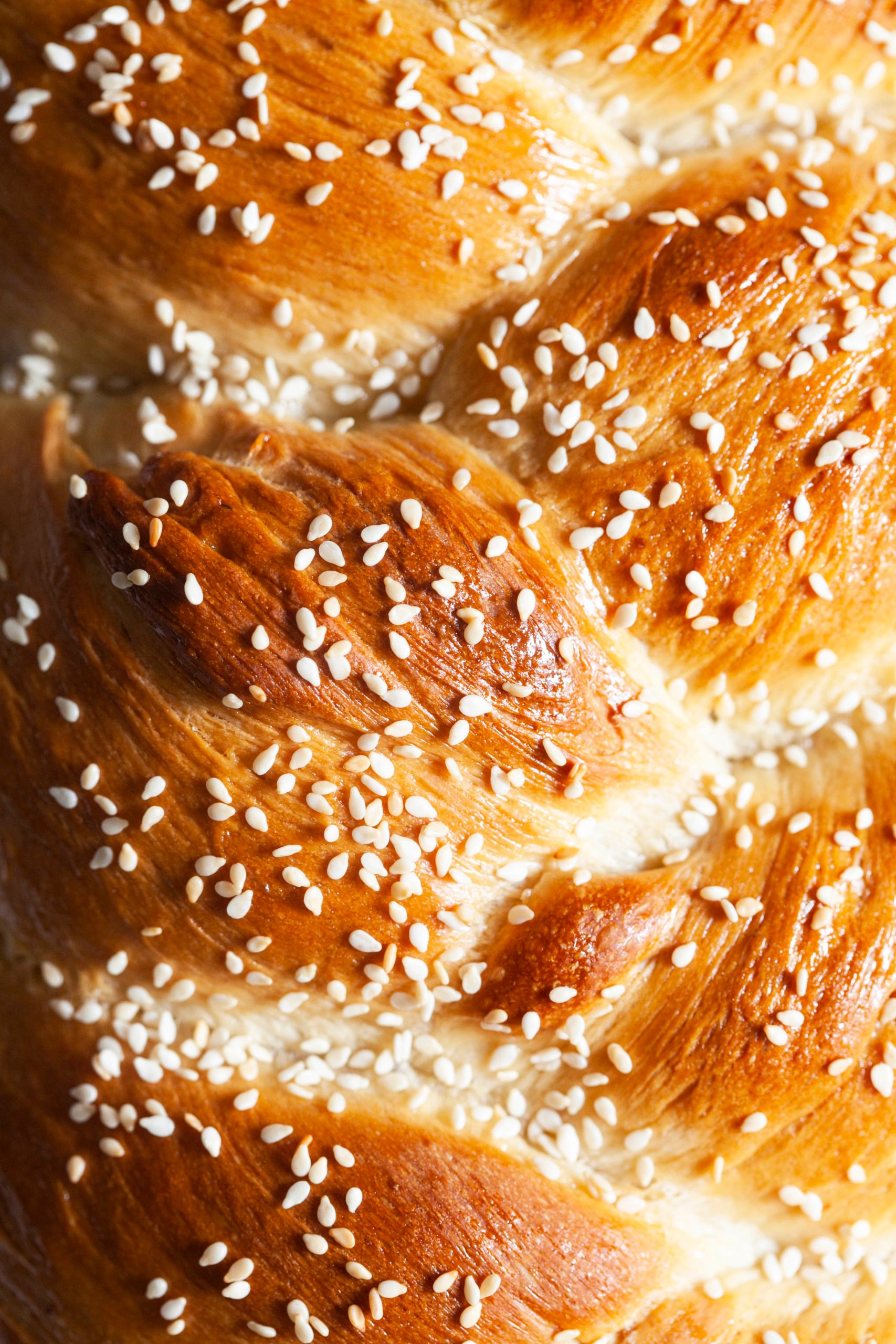 I'm not attempting to share a definitive tsoureki here by any means; that would be impossible, since it's a bread that probably varies from family recipe box to recipe box. I'm sharing the tsoureki that's most like the one I remember from childhood: light and tender, sweet but not dessert-y, fragrant with the smell of mahleb but very, very light on the mastic (which I find overpowering when it's more than a pinch). Our tsoureki didn't include citrus zest, so my recipe doesn't either, though I've tried including it, and it's a nice addition.
I've had a Goldilocks experience testing this recipe. Some batches were a little too sweet, or not sweet enough; sometimes I added too much mahlep, which my mom doesn't like in big amounts, and sometimes it wasn't even detectable. I think I finally got it right, but of course my mom will be the one to tell me whether that's true.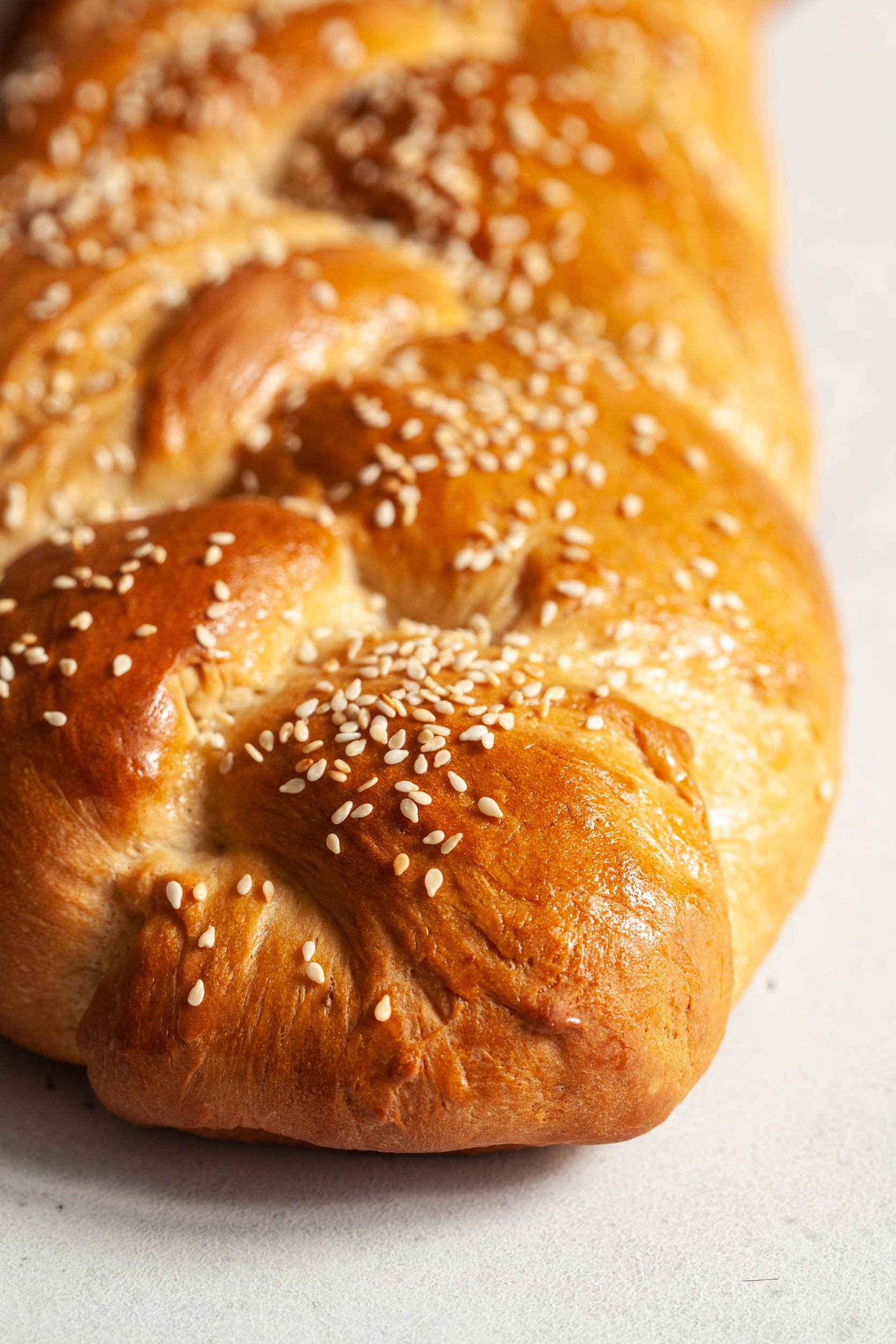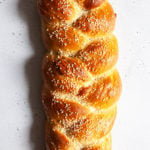 Print
Vegan Tsoureki (Greek Easter Bread)
Ingredients
4

tablespoons

(60 g) vegan butter (substitute 4 tablespoons vegetable oil)

1/2

cup

non-dairy milk (any is fine, except for full fat coconut milk)

1/3

cup

water

4

tablespoons

(60 g) aquafaba, lightly beaten*

4

cups

(480 g) unbleached, all-purpose flour

4 1/2

teaspoons

(15 g) instant yeast*

6

tablespoons

(75 g) cane sugar

1

teaspoon

(4 g) fine kosher salt

1

teaspoon

ground mahlep (substitute 3/4 teaspoon vanilla extract if you don't have it)

1/8

teaspoon

(a pinch) ground mastic (optional)
For decoration
1

tablespoon

non-dairy milk

1

tablespoon

agave or maple syrup

1

tablespoon

sesame seeds
Instructions
Melt your butter in a small saucepan. Add the non-dairy milk and water, then return the saucepan to low heat. Heat the liquid to 100-115F (or until it's hot to the touch when you dip your pinkie finger in, but not painful).

In a large mixing bowl, whisk together the flour, yeast, sugar, salt, mahlep, and mastic.

Add the aquafaba to your liquid mixture, stir, and then add this liquid to your dry ingredients. Use a spatula to mix until a sticky dough ball forms.

Turn your dough onto a lightly floured surface. Knead for 10-14 minutes, or until your dough is smooth and pliable. If it's very sticky as you knead, you can add a little extra flour to your surface, but try not to add a lot. This is a sticky dough in general, so use a bench scraper to help you as you knead. Alternately, you can mix your dry ingredients in the bowl of a stand mixer fitted with the dough hook, add your liquid ingredients, and knead on medium high in the stand mixer for about 6-7 minutes. Once again, the dough is ready when it's smooth and supple.

Transfer the dough to an oiled bucket or bowl and turn once to coat. Cover and allow the dough to rise for 1-2 hours, or until doubled in size (this will depend on the temperature in your home).

Preheat your oven to 350F. Transfer the dough onto a lightly oiled surface and cut it into three even pieces (they'll be about 285-300 g each). Roll these into strands 19-20 inches long. Arrange the strands lengthwise on a rectangle of parchment. The short edge of the parchment (and ends of the strands) should be facing you. Braid the strands into a 3 strand plait, tucking in the ends after you're finished. Transfer the parchment to a baking sheet. Allow the tsoureki to proof for 45-75 minutes, or until puffy. When you poke it gently with your finger, it should spring back, but slowly.

When the dough has finished proofing, combine the non-dairy milk and agave or maple syrup in a small bowl. Brush the dough with this vegan version of an egg wash. Transfer the dough to your oven and bake for 20 minutes. Remove the dough from the oven and brush it with another layer of the egg wash, then sprinkle it with sesame seeds. Return it to the oven in a rotated position (so that it bakes evenly), and then bake it for another 20-30 minutes, till deep golden brown throughout (a probe thermometer should read at least 190F in the center of the bread). Allow it to cool on a cooling rack before slicing and serving.
Notes
If you're using regular yeast, rather than instant yeast: warm the non-dairy milk and water to 110-115F, then stir in 1 tablespoon of the sugar (the rest of the sugar can be mixed into the dry ingredients). Sprinkle your yeast on top. When the yeast is foamy (5-10 minutes), melt your butter and stir it into the liquid mixture, along with the aquafaba. Proceed with the recipe.
If you don't have canned chickpeas for aquafaba, you can use 1/2 cup applesauce.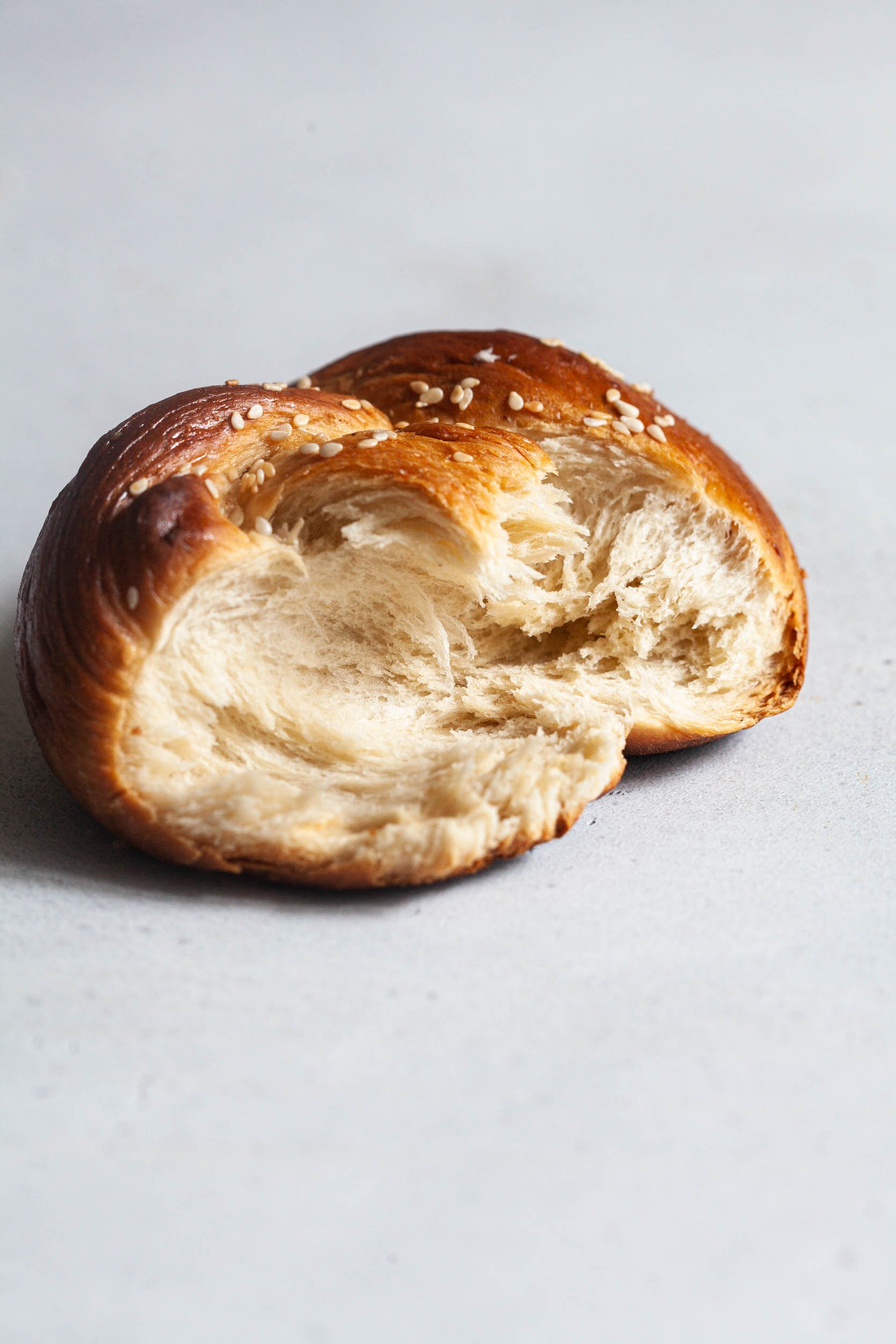 The bread tastes lovely without the mahlep, and anyone who knows tsoureki would still recognize it. But I'd be lying if I said that the mahlep isn't what gives the bread its characteristic aroma and flavor. It's distinctive, and because it's not a spice that we use often here in America, you recognize it instantly when it's there.
I couldn't find mahlep anyplace reasonably close to me leading up to this holiday, and it seemed all but sold out online. Under normal circumstances, I'm lucky enough to live in a city with tons of ethnic markets that have amazing spice selections, but when I tried, the two Middle Eastern markets that I know carry mahlep couldn't deliver (and they're much too far for me to walk).
I was about to give up on traditional tsoureki, when I did one last Google search and found The Greek Market, in Florida. I was delighted to find out that they could ship to NYC, and I ordered my mahlep from them, which is how my tsoureki experiments and this recipe came to be.
Normally, I'd feel a little silly ordering such a tiny item online, with shipping costs. But this year, it just felt important to keep tradition alive in some small, but significant way. I'm glad I made the splurge. This wonderful, fragrant, sweet and satisfying bread is the result, and I'm so happy that I can make a gloved and contact-free delivery of a loaf to my mom today. A lot has changed since childhood, and a lot has changed in our daily lives very, very quickly. But tsoureki—even if it's veganized—hasn't.
Happy Greek Easter to all who celebrate. Χριστός Ανέστη! And I'll see you later this week.
xo
The post Vegan Tsoureki (Greek Easter Bread) appeared first on The Full Helping.
---
Share this post
---
---