Huckleberry Crumble
Posted by admin on
By beckysue from Baking the Goods.
I need to preface this post by letting you know that this Huckleberry Crumble is one of the easiest recipes ever. However, the ease of the recipe is counterbalanced by the incredibly laborious and finicky task of hunting down and hand foraging wild huckleberries. That may sound like a major turnoff but it should be seen as an all out adventure!
If you aren't familiar with the illusive huckleberry, it's honest to goodness the best berry out there. They are often described as wild blueberries but they are so much more. While blueberries tend to be bland in flavor, these itty bitty purple beauties burst with juicy, tart sweetness. Blueberries ain't got nothing on the hucks. Huckleberries are what you wish your boring, bland blueberries tasted like.
In the western US, huckleberries grow wild at many higher elevations and along the coast. They start to show their colors in July in the warmer zones like Montana, Idaho and Eastern Washington. Then they begin to ripen in cooler climates in late August and September. Due to their illusive nature, huckleberries are often referred to as purple gold by folks in the know. Roadside stands and local farmers markets occasionally sell them but they come at a high price, upwards of $15 per pound! Pure gold. I think I paid about that to make my darling Huckleberry Hand Pies a few years back. We've been calling them the caviar of berries due to the currency of labor that goes into the picking process and their small, glossy, round shape and clutchy nature.
Huckleberries have their Pros and Cons
PROS:

Huckleberries will be the most amazing berries you'll ever taste in your life.
Huckleberries have a bracingly tart sweetness, unmatched by commercially cultivated berries.
Huckleberries are itty bitty but they are packed with juicy flavor that bursts when bitten or baked.
Huckleberries are wonderful to eat fresh if you like a pucker-y tartness and they are delightfully sweet and tart when baked.

The deep purple color bakes into the most vibrant deep scarlet with purple undertones, it is so beautiful you won't believe your eyes.

CONS:

Huckleberries are very hard to find and only grown in a handful of regions in the US.
Huckleberries are not commercially cultivated so you can't just pick them up at the market.
Huckleberry picking is incredibly laborious and takes HOURS for even a small haul.
Bears also love huckleberries, so there is a good chance they might get to them first. Or might be lurking around the huckleberry bushes so please CAUTION when picking.
Even though I lived in Oregon for 13 years, with a 6 year break in California, I never realized you could find hucks in OR. I'd hunt them down on my summer trips to see my family in Spokane or Idaho. My sweet friend, Paula informed me that huckleberries grown in Oregon and specifically near her place in Depoe Bay. She was kind enough to share the location and access to bushes brimming with wild huckleberries by her place this year.
The huckleberry hunt turned out to be quite the adventure, complete with me mistaking Salal Berries for hucks at first. I knew it was too good to be true. So we had to huck those Salals and search a little harder for the huckleberries. Some huckleberry bushes were a goldmine, bursting with berries and some had next to nothing.
After 2 hours of tedious picking, we'd plucked enough to make this Huckleberry Crumble that I'd dreamed up in my mind for weeks. Yes, it took two people nearly 2 hours to pick about 4 cups of huckleberries. And yes, it was worth every minute of picking.
After berry picking, we made our way to my mother in law's place on Devil's Lake to recoup from the pick. The next morning I recruited the two best Mother Huckers around to help me with the monotonous task of sorting through the huckleberries. Poor BJ and Rosemarie spent at least an hour and a half sifting through the berries, tossing out the green guys and carefully pulling out the individual stems of each tiny berry. It was a serious amount of tedious work but the company was unbeatable. Our jokes and giggling increased as the purple huckleberry stains on our hands deepened.
Finally after we'd picked our hands purple, I mixed up the easy as can be crumble topping to blanket and bake over the magic mountain berries. The crumble top has only 5 ingredients; flour, brown sugar, butter, cinnamon and salt. The berries are the star of this Huckleberry Crumble and I didn't want to overdress them and cover up their natural beauty and flavor. I was tempted to add oats and nuts and create a Huckleberry Crisp, but I kept it simple as can be and I am so glad I did.
The huckleberry filling is mixed with a bit of sugar to balance out the tartness, a dash of salt and some tapioca flour to help the berries thicken up. That's it. I wanted to keep the huckleberries as pure as possible to be sure that they shine bright in this Huckleberry Crumble.
Fruit crumbles are stunningly simple to make and pretty hard to mess up. The rustic and forgiving nature of fruit crumbles is their charm. You can bake a fruit crumble with just about any fruit and make as much or as little as you'd like. If you've just got 1 peach, you can bake up a personal sized Peach Crumble in a ramekin or go extra large, deep dish style if you're swimming in berries. As long as you follow these simple ratios, a recipe isn't even necessary. Then you can jazz things up with spices to fit your tastes.
Simple Fruit Crumble Ratios
Crumble Topping = 2:1:1 ratio – two parts flour to one part sugar and one part butter.
Fruit to Crumble = 2:1 ratio – two parts fruit to one part crumble topping.
Spice to Crumble = 1 teaspoon spice for every 1 cup flour.
1 – 1 1/2 tablespoon of thickener like tapioca flour, cornstarch or all purpose flour per 4 cups fruit filling. Apples and pears need only about 1 TB but juicier fruit like berries and stone fruit may require 1 1/2 tablespoons.
If you have access to, and the patience for, a huckleberry forage, you've got to make the most of that purple gold with this Huckleberry Crumble. I raise my purple stained hand and swear to you it is worth all of the hunting, hucking and sorting. And if you can't get ahold of huckleberries, any other berry, or any fruit really, will work for this recipe. Just know that nothing will ever be quite as glorious as a hand picked, wild mountain Huckleberry Crumble.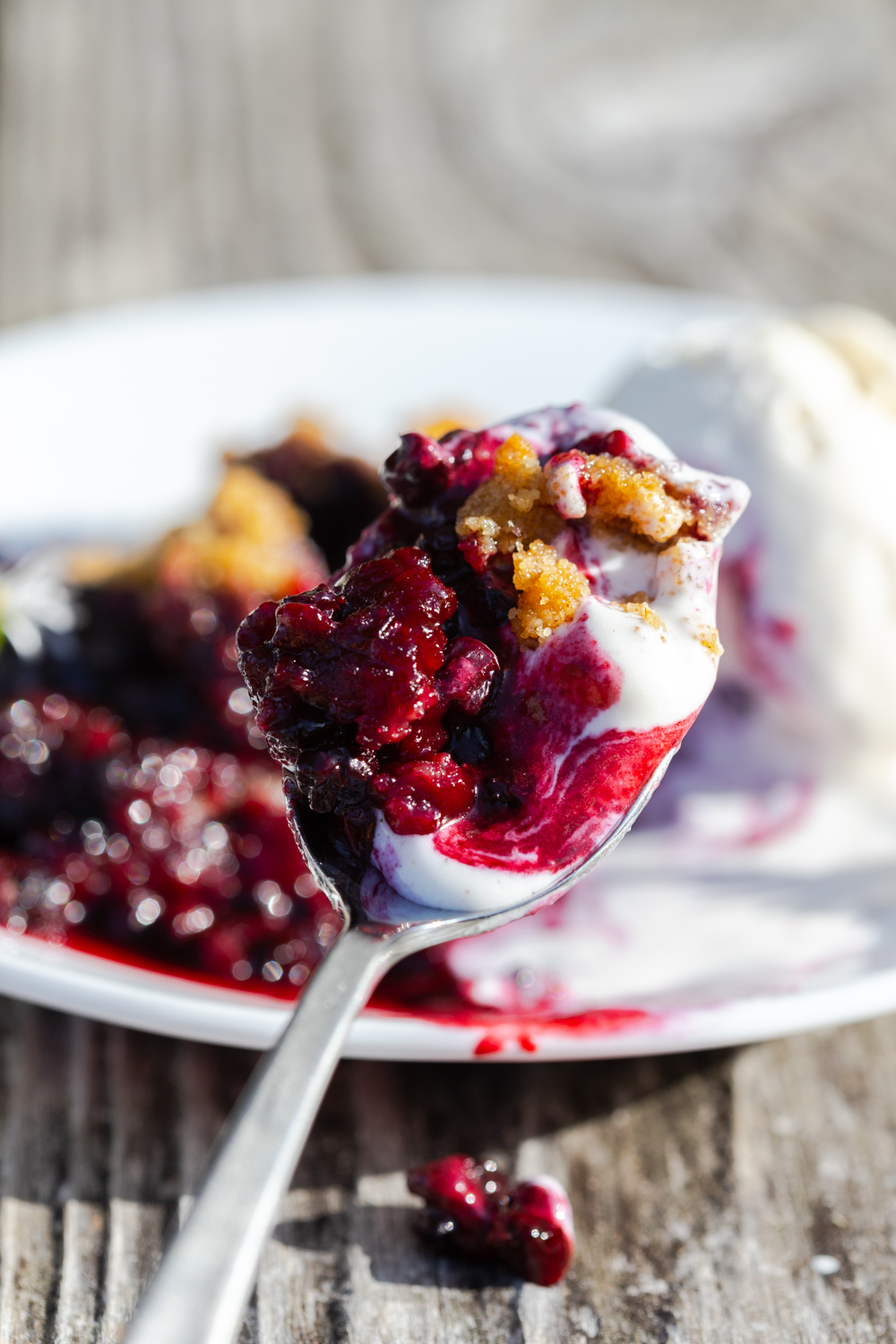 Print
Huckleberry Crumble
Tiny and tart, hand foraged, wild mountain huckleberries bake into a jammy dream under a blanket of warm, cinnamon spiced brown sugar crumble topping in this easy Huckleberry Crumble.
Author
Becky Sue of Baking The Goods
Ingredients
CRUMBLE TOP
1

cup

all purpose flour

1/2

cup

brown sugar

1/2

teaspoon

fine sea salt

1/2

cup

unsalted butter

– cold & cut into 1/4" cubes
HUCKLEBERRY FILLING
4

cups

huckleberries

or blueberries, raspberries, blackberries, any berries really

1/3

cup

granulated sugar

1 1/2

tablespoons

tapioca flour, cornstarch or all purpose flour

1

tablespoon

butter

– softened
Instructions
CRUMBLE TOP
Arrange a rack in the middle of the the oven and heat to 350°F.

In a medium sized mixing bowl, combine flour, sugar, salt and cinnamon. Toss or whisk together.

Use your hands to smoosh the cold butter cubes into the mix until you have a rough and crumbly dough. Place the crumble topping in the refrigerator or freezer to chill while you prepare the huckleberry filling.
HUCKLEBERRY FILLING
Combine huckleberries, sugar and salt in a mixing bowl. Gently fold the sugar into the berries to coat. Allow to sit for 10-15 minutes while the juices begin the release.

Add tapioca flour, cornstarch or all purpose flour and fold in with berries until absorbed.
ASSEMBLE & BAKE
Butter a 10 1/4" cast iron skillet, 9" pie plate or 11×7-inch baking dish with softened butter.

Add huckleberry mixture. Evenly spread the chilled crumble mixture over the top.

Place on a parchment, Silpat or foil lined baking sheet and bake at 350°F for 40 – 45 minutes until the filling is bubbly and the top is golden and crispy.

Allow to cool for at least 20 minutes. Serve warm with vanilla ice cream and enjoy the best berry dessert of your life!
The post Huckleberry Crumble appeared first on Baking the Goods.
---
Share this post
---
---