Gluten Free Donut Muffins : Top 8 Free
Posted by admin on
These gluten free donut muffins recreate all the flavor of a cinnamon sugar donut, without the special pan. No frying needed. In fact, no eggs or dairy based milk needed, either! Make these for a quick breakfast treat.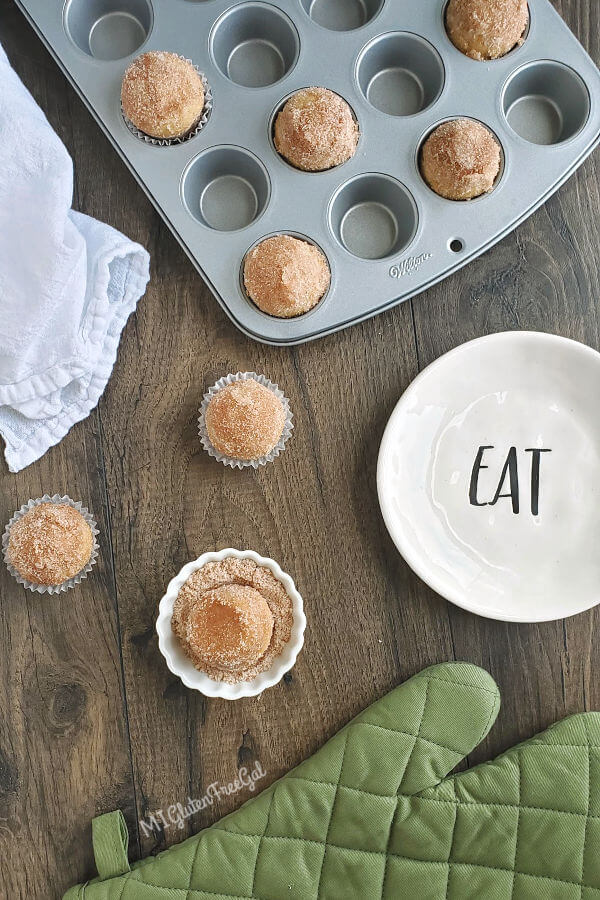 No Donut Pan Needed
I created multiple gluten free donut recipes for this site. Mocha Donuts. Donuts topped with peanut butter ganache. Evenpumpkin donuts. However, they all require the use of a donut pan. Which I highly recommend to everyone. However, sometimes you want donuts and don't have that pan!
Therefore, I played around with my basic gluten free donut recipe, and tried the batter in a muffin tin. Automatic success! The great thing about this recipe is that it is "small batch." It makes 6 regular sized donuts, and 14 mini donuts. Perfect for a treat, but without a lot of extra left around.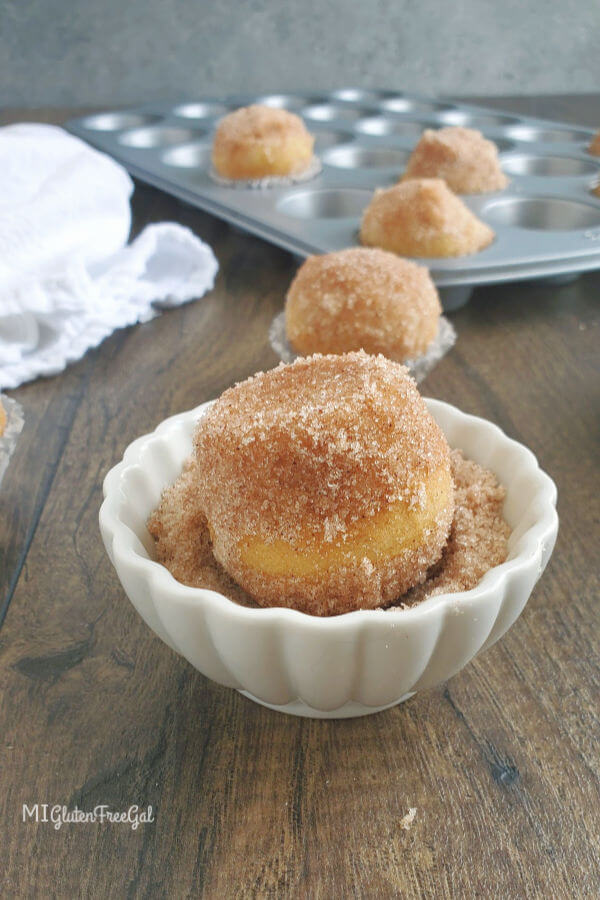 Sugar and Spice and Everything Nice
I coat these gluten free donut muffins in a blend of cinnamon and sugar. You could, however, coat it in anything you like. Use pumpkin spice instead of cinnamon for a new flavor twist. Or coat them in powdered sugar. I've always wanted to learn how to make peanut covered donuts, as my dad loved those.
To keep this recipe free from the top 8 allergens, I used melted coconut oil for dipping. If you can tolerate dairy, you can use melted butter. (For that matter, if you can tolerate dairy, you can use regular milk in the batter, as well.) I don't recommend canola oil, as I find melted coconut oil acts more like melted butter in recipes.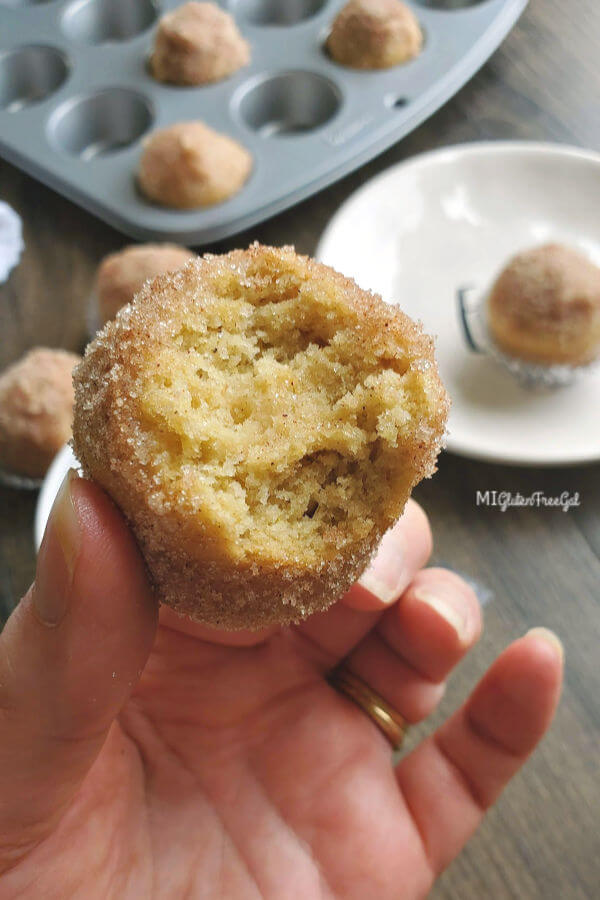 Mini Gluten Free Donut Muffins
This recipe makes only 14 mini gluten free donut muffins. I love that, because it's just enough for my husband and I to share. Plus a few to stash in the freezer for a later date. Speaking of freezing, they do reheat well. I place them on a plate, and microwave them for 8-10 SECONDS. They taste just like they came out of the oven!
I previously stated you need no special pan for these gluten free donut muffins. However, I'd highly recommend a mini muffin pan if you can find one. I used it to make these Gluten Free Cranberry Bites, as well. Outside of baking, you can use them to make your own peanut butter (or Sunbutter) chocolate cups.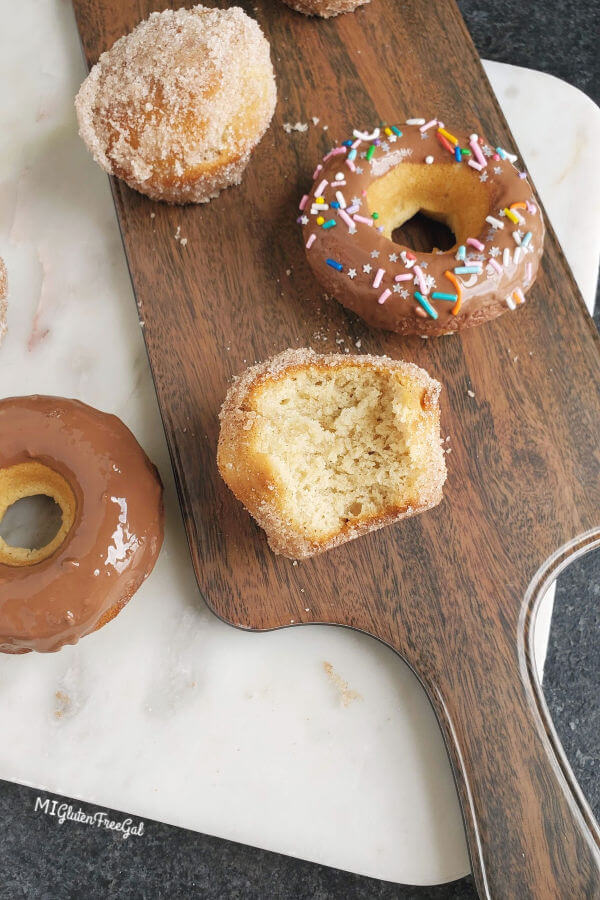 Can I Make These in a Regular Muffin Tin?
Yes! Actually, the first time I made this, I prepared them in a regular muffin tin. I baked them in silicnoe liners. Once cooled, I coated them with cinnamon and sugar. I took a picture, next to the standard donut recipe. I wanted you to be able to visually see the comparison.
Looking for other donut recipes? Need to avoid grains? Try these Paleo Cinnamon Donut Muffins from the Southern In Law blog. If you're a fan of cassava flour, these Cassava Flour Donuts with Apple Cider Glaze from Otto's sound fantastic. Of course, if you want to try yeasted, fried donuts, try these Incredible Gluten Free Yeast Donuts from Let Them Eat Gluten Free Cake.
Gluten Free Donut Muffins
Ingredients
1 tbsp coconut oil or butter
1 tbsp oil (I used canola.)
1/4 c sugar
3 tbsp brown sugar
1/2 tsp vanilla
3 tbsp applesauce (or 1 egg or 2 tbsp aquafaba)
3/4 tsp baking powder
1/4 tsp baking soda
1/4 tsp salt
1/8 tsp nutmeg
1 1/4 c flour (I used King Arthur Flour Measure for Measure, 155 grams)
1/2 c rice milk or your milk of preference

For the topping

2-3 tbsp melted coconut oil
1/2 c white sugar
1-1.5 tsp cinnamon
Instructions
In a small bowl, melt coconut oil in microwave for 30 seconds. Meanwhile, measure milk in a 1/2 measuring cup and also allow to come to room temperature.
While those are coming to room temperature, combine baking powder, baking soda, salt, nutmeg and flour in a small bowl. I personally prefer weighing my flour instead of using a measuring cup, and I sift my flour prior to adding it to the other ingredients. Set bowl of dry ingredients aside.
Place melted coconut oil and canola oil in bowl of stand mixer. To that, add the white and brown sugars, and vanilla. Cream ingredients together for 3-4 minutes.
Add applesauce and whip for up to 1 minute.
Alternately add bowl of dry ingredients and milk, adding half of each until incorporated. Use a rubber spatula to make sure all flour is dissolved into the batter.
Allow batter to rest for 20 minutes. Meanwhile, preheat oven to 425 degrees.
Lightly spray muffin pan with cooking oil (like Pam) and dust with gluten free flour. Fill the wells with batter. For mini muffins, I like to use a small scoop, which holds approx. 1.5 tbsp. If using a larger muffin pan, use two scoops per well.
Bake at 425 degrees for 13-15 minutes for mini muffins, 16-18 minutes for standard size muffins. Allow to cool in donut pan for 5 minutes, then remove and place on cooling rack.
While donut muffins are cooling, combine sugar and cinnamon in a small glass bowl.
In a separate shallow bowl, melt 2-3 tbsp coconut oil. (I use my microwwve to do this.)
Dip donut muffins in coconut oil, then roll in cinnamon sugar mixture. I find it easiest to dip and coat the bottoms of all the donut muffins. After the bottoms are coated, then i go back and dip the tops in coconut oil, and cover in cinnamon and sugar. I find it's easier to handle the donut muffins this way, and creates less mess.
Enjoy fresh. They can also be frozen and reheated in microwave for 8-10 SECONDS.
7.8.1.2
138
https://miglutenfreegal.com/2020/05/09/gluten-free-donut-muffins-top-8-free/
The post Gluten Free Donut Muffins : Top 8 Free appeared first on MI Gluten Free Gal.
---
Share this post
---
---