Fun Mardi Gras Party Plan - With Recipes!
Posted by admin on
Mardi Gras refers to the bright, vibrant festivals of excess held around the world leading up to Ash Wednesday. This year it is on March 1st – perfect time to start planning! Nowhere has the tradition taken on its own distinctive flare more than in New Orleans. A beautiful blend of French, Spanish, African, and Native American cultures have combined over hundreds of years and evolved into a city-wide cultural phenomenon that's impossible to replicate. But that doesn't mean it's not worth a try!
We can't all make it to the Big Easy for Carnival, so here are some easy tips to throw your own Mardi Gras and drive away those midwinter blues.
Decorate with Masks and Throws
All you need are some cheap masks and tons of beaded necklaces for decorations. You can find them at any dollar store, party store, or online. Plastic beaded necklaces are common "throws" among other trinkets thrown from parade floats during Mardi Gras.
Make it look like a parade just romped through your party space by draping beads from lamps, tables, even curtains.
Cover party tables with purple, gold, and green tableclothes. Purple stands for justice, green means faith, and gold represents power.
Hang masks from doorways, on walls, and around your tablescape.
Activity Idea: A mask decorating craft or a costume contest are fun ways to get guests into the spirit of Mardi Gras.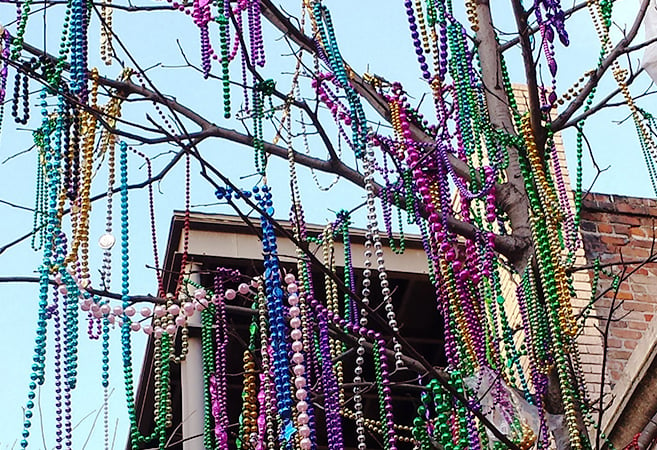 Make a Playlist
Music is at the heart of New Orleans. And, it's a vital part of any Mardi Gras party. Here are a few tunes for your party playlist that capture Louisiana's rich musical heritage:
Ain't Nothin' but a Party by Dirty Dozen Brass Band
Carnival Time by Al Johnson
Street Parade by Earl King
Goin' Back to New Orleans by Dr. John
Walking to New Orleans by Fats Domino
New Orleans Blues by Jelly Roll Morton
When the Saints Go Marching In by Louis Armstrong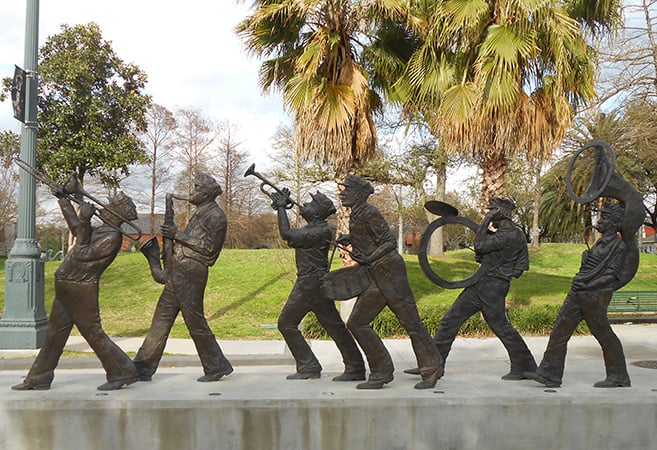 Create Your Menu
Nothing will make your guests feel more transported to Mardi Gras than your menu.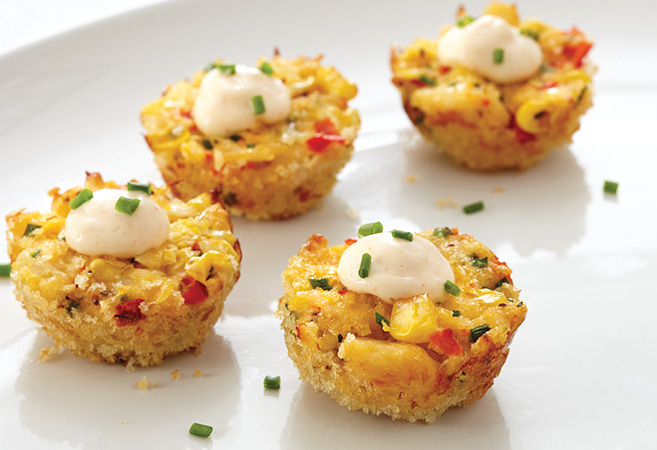 SWEET CORN & CRAB POPPERS
ADDING CORN TO THESE MINI CRAB CAKES GIVES THEM A MOIST TEXTURE AND SWEET FLAVOR.
INGREDIENTS
2/3 cup (150 mL) unseasoned dry bread crumbs, divided
3/4 cup (175 mL) thawed frozen corn kernels
1/2 small red bell pepper
1 pkg (.75 oz) fresh chives (about 1/4 cup/50 mL finely chopped), divided
1 can (6 oz/175 g) lump crabmeat, drained
1/2 cup (125 mL) mayonnaise, divided
1   egg, lightly beaten
1/2 tsp (2 mL) coarsely ground black pepper
1/4 tsp (1 mL) salt
1   lemon
1/8 tsp (0.5 mL) cayenne pepper
DIRECTIONS
Preheat oven to 425ºF (220ºC). Spray cups of a mini-muffin plan (I have this one Deluxe Mini-Muffin Pan)with nonstick cooking spray. Sprinkle cups with 1/3 cup (75 mL) of the bread crumbs, gently tapping and rotating to coat.
Finely chop corn and bell pepper using a knife or  Food Chopper which is easier. Blot bell pepper dry with paper towels. Finely chop chives; set aside 1 tbsp (15 mL) for garnish. Combine corn, bell pepper, remaining 3 tbsp (45 mL) chives, crabmeat, 1/4 cup (50 mL) of the mayonnaise, egg, remaining 1/3 cup (75 mL) bread crumbs, black pepper and salt. Using a batter bowl like this Classic Batter Bowl makes pouring easy. Mix well.
Divide crab mixture evenly among cups of pan. Bake 8–10 minutes or until golden brown. Remove pan from oven to a cooling rack. Cool poppers in pan 2 minutes; remove from pan to cooling rack.
Meanwhile, for sauce, juice lemon to measure 1 tsp (5 mL). Combine juice, cayenne pepper and remaining 1/4 cup (50 mL) mayonnaise; mix well. Top poppers with sauce and reserved chives.
Yield:
12  servings of 2 appetizers
Nutrients per serving:
Calories 120, Total Fat 8 g, Saturated Fat 1 g, Cholesterol 35 mg, Sodium 270 mg, Carbohydrate 7 g, Fiber 1 g, Protein 4 g
Cook's Tips:
Use Stainless Whisk as a lemon reamer by choking up on the head of the whisk and juicing the lemon over prep bowl.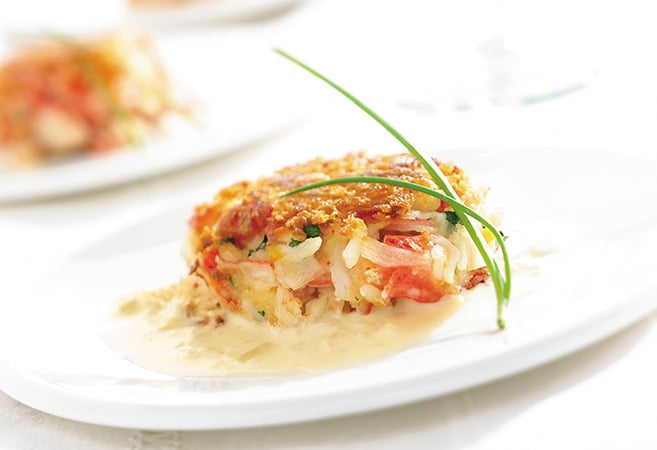 CRUSTY CRAB CAKES WITH LEMON-BUTTER SAUCE
THE SIMPLE ELEGANCE OF THIS RESTAURANT-STYLE APPETIZER MAKES IT AN IDEAL FIRST COURSE FOR A FORMAL DINNER PARTY.
INGREDIENTS
8 ounces king or snow crabmeat, shelled and torn into pieces (about 1 pound crab legs in shells)
3 slices French bread, coarsely chopped (3/4 cup fresh bread crumbs), divided
2 tablespoons mayonnaise
2 teaspoons snipped fresh parsley
1 teaspoon Dijon mustard
1/2 teaspoon finely grated lemon zest
1/4 teaspoon coarsely ground black pepper
2 tablespoons vegetable oil
1/4 cup dry white wine such as Chardonnay
2 tablespoons lemon juice
1 shallot, finely chopped
2 tablespoons heavy whipping cream
1/8 teaspoon salt
2 tablespoons butter, cut into small pieces
DIRECTIONS
For crab cakes, combine crabmeat, 1/4 cup of the bread crumbs, mayonnaise, parsley, mustard, lemon zest and black pepper; mix gently. Divide mixture into four equal patties. Coat patties with remaining 1/2 cup bread crumbs. Heat oil in (10-in.) Sauté Pan over medium heat until hot; add crab cakes. Cook 4-6 minutes or until both sides are deep golden brown and crisp, turning once. Remove from pan; drain on paper towels.
Meanwhile, for lemon-butter sauce, combine wine, lemon juice and shallot in (8-in.) Sauté Pan. Simmer over medium-high heat 1-2 minutes or until most of the liquid is evaporated. Add cream and salt; bring to a boil and remove from heat. Add butter pieces one at a time, whisking after each addition using Silicone Sauce Whisk until butter is completely incorporated. Spoon sauce onto plates; top with crab cakes.
Yield:
4 crab cakes  servings of 1 crab cake
  servings of 1 tbsp sauce
Nutrients per serving:
Calories 290, Total Fat 22 g, Saturated Fat 7 g, Cholesterol 50 mg, Carbohydrate 11 g, Protein 12 g, Sodium 840 mg, Fiber less than 1 g

U.S. Diabetic exchanges per serving:
  1 starch, 1 medium-fat meat, 3 fat (1 carb)
Cook's Tips:
Using Kitchen Shears, carefully cut down length of shell on two opposite sides of crab leg; split shell apart to remove meat. Place crabmeat onto paper towels to absorb excess moisture; do not squeeze dry.

Lump crabmeat can be substituted for the crab legs, if desired.

Once the butter has been added to the sauce, it cannot be reheated. The wine reduction can be made in advance, however. When ready to serve, heat the reduction and add the butter as directed; serve immediately.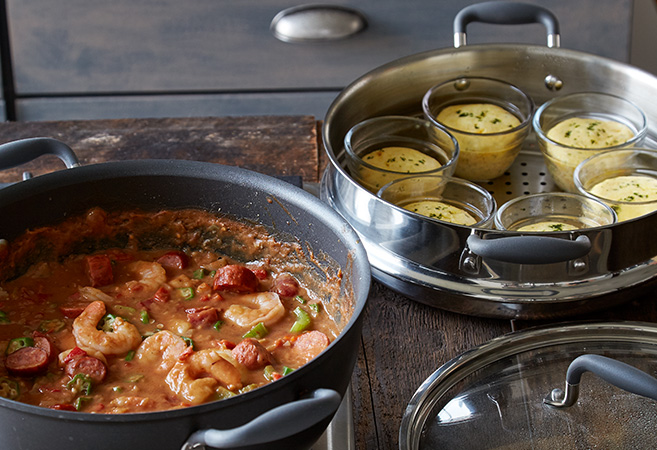 CREOLE GUMBO WITH CORNBREAD MUFFINS
INGREDIENTS
8 oz (250 g) Cajun-style Andouille sausage
3    celery stalks
1   medium onion
1   medium red bell pepper
2   garlic cloves
½ cup (125 mL) plus 1 tsp (5 mL) canola oil, divided
½ cup (125 mL) flour
2 cups (500 mL) low-sodium chicken broth
1 can (15 oz or 398 mL) no-salted added diced tomatoes, undrained
1-3 tsp (5-15 mL) Cajun Creole seasoning blend
1 lb (450 g) shrimp, peeled and deviened (26-30 ct)
2 cups (500 mL) frozen sliced okra
 Hot cooked rice
 Nonstick cooking spray
1 box (8.5 oz) cornbread muffin mix (see Cook's Tip)
1   egg
⅓ cup (75 mL) milk
½ cup (125 mL) shredded cheddar cheese (optional)
1 tbsp (15 mL) finely chopped fresh parsley
DIRECTIONS
For the gumbo, cut the sausage into ½" (1-cm) slices. Coarsely chop the onion and bell pepper. Slice the celery into ½" (1-cm) slices.  (I know I reference this food chopper in nearly every recipe – but it's something I use daily. It makes meal prep so much faster and easier.)
Heat ½ cup (125 mL) of the oil in an All-Purpose Pot over medium-low heat for 3 minutes. Slowly whisk in the flour; stir constantly for about 10 minutes, or until the roux is milk chocolate in color. Remove the roux from the pot and set it aside.
Add the remaining 1 tsp (5 mL) oil, celery, onion, bell pepper, and garlic pressed using a Garlic Press to the pot. Cook for 3 minutes or until softened, stirring occasionally.
Stir in the broth, tomatoes, roux, seasoning blend, and sausage; bring the mixture to a boil. Reduce the heat; cover and simmer for 20 minutes, stirring occasionally.
Meanwhile, for the cornbread, spray 6 1-Cup (250 mL) Prep Bowls with nonstick cooking spray; place the bowls into a 12" (30-cm) Steamer. Combine the cornbread ingredients in a small bowl and mix well. Spoon about ¼ cup (50 mL) of the batter into each prep bowl.
Stir the shrimp and okra into the pot. Place the steamer on the pot. Cover and cook 18-22 minutes or until a wooden pick inserted into the center of the cornbread comes out clean.
Remove the steamer to a hot pad or trivet; let it stand for 5 minutes. To remove the cornbread, run a knife around rims of the prep bowls and invert. Ladle the gumbo into bowls and serve it with the cornbread and hot cooked rice, if desired.
Yield:
Nutrients per serving:
 Calories 540, Total Fat 30 g, Saturated Fat 5 g, Cholesterol 170 mg, Sodium 1170 mg, Carbohydrate 44 g, Fiber 5 g, Protein 25 g
Cook's Tips:
Using low-sodium canned chicken broth and no-salt canned diced tomatoes helps in reducing a typically high-sodium dish.

For homemade cornbread, omit the corn muffin mix. Combine ¾ cup (175 mL) yellow cornmeal, 3 tbsp (45 mL) sugar, 2 tbsp (30 mL) vegetable oil, 2 tsp (10 mL) baking powder, and ¼ tsp (1 mL) salt. Add the remaining cornbread ingredients and proceed as recipe directs.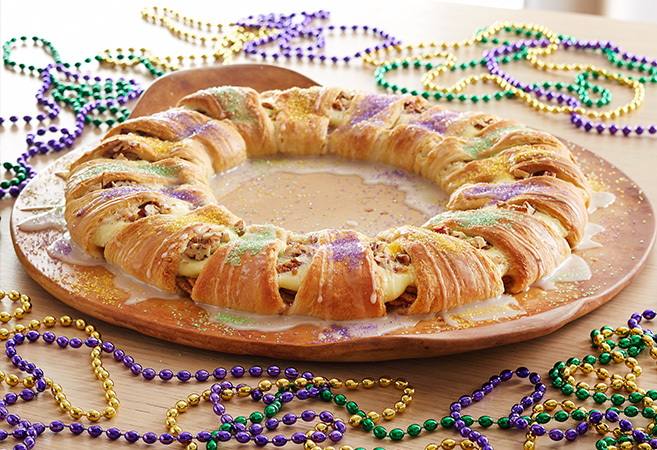 Make an Easy King Cake
The king cake is the traditional dessert of Mardis Gras. This frosted yeast dough cake is considered a final sweet treat before the start of Lent. This version is a much simpler shortcut; a ring of refrigerated crescent rolls filled with a sweet cream cheese mixture, sliced apples, and pecans.
The little plastic baby tucked inside after baking is considered good luck to the guest who finds it in their piece of cake. (But it's entirely optional.)
KING CAKE CRESCENT RING
INGREDIENTS
1 pkg (8 oz/250 g) cream cheese, softened
1⅓ cups (325 mL) powdered sugar, divided
1   egg
1½  tbsp (22 mL) granulated sugar
2  tsp (10 mL) cinnamon
2   medium Granny Smith apples
2 pkg (8 oz/235 g each) refrigerated crescent rolls
¼  cup (50 mL) pecan halves, chopped
4-5 tsp (20-25 mL) milk
 Purple, yellow, and green colored sugar for decorating
DIRECTIONS
Preheat the oven to 375°F (190°C). In a batter bowl, combine the cream cheese and ⅓ cup (75 mL) of the powdered sugar until well blended. Add the egg and whisk until smooth. 
In a large bowl, combine the granulated sugar and cinnamon. Core the apples and peel. Slice the apples. Cut the apple rings in half and toss them with the sugar mixture in a mixing bowl.  
Unroll the crescent dough; separate it into 16 triangles. Arrange the triangles in a circle, using something round such as this Large Round Stone makes it easier, with the wide ends overlapping in the center and points toward the outside. (Points will extend off the edge of the stone.) Roll the wide ends of the dough toward the center to create a 5″ (13-cm) round opening in the center of the stone. 
Spread half of the cream cheese mixture over the dough in a continuous circle. Spread the apple slices evenly over the cream cheese mixture. Pour the remaining cream cheese mixture over the apples and sprinkle them with the pecans.
Bring the points of the triangles up over the filling and tuck the tips under the dough at the center to form a ring. Bake for 25-30 minutes or until golden brown. 
Meanwhile, mix the remaining 1 cup (250 mL) of powdered sugar with the milk; whisk the glaze mixture until it's just thin enough to drizzle.  
 Remove the ring from the oven and let it cool for 5 minutes. Drizzle the ring with glaze and sprinkle each wedge with alternating purple, yellow, and green sugar. Cut the cake into 16 slices.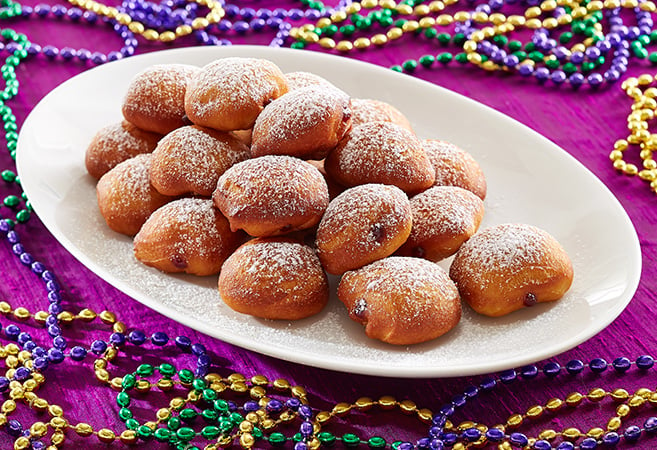 MINI BEIGNETS
INGREDIENTS
 Canola oil for frying (about 3 cups/750 mL)
1 pkg (7.5 oz/212 g) refrigerated buttermilk biscuits (10 pieces)
½ cup (125 mL) raspberry jam
 Powdered sugar for dusting
DIRECTIONS
Heat the canola oil in an nonstick skillet, until a Candy Thermometer registers 375°F (190°C). (Oil should be about 1″/2.5-cm deep in the skillet.) 
Meanwhile, separate the biscuit dough and cut each piece in half; then flatten each half into a round disc. Carefully drop the dough, 5 at a time, into the hot oil. Fry the dough for 30-60 seconds per side, or until they're golden brown. Using the tongs, carefully remove the dough from the oil to a Large Sheet Pan lined with paper towels. Repeat this process with the remaining dough discs. 
Place the jam into a Decoratoring Bag fitted with the filling tip. Insert the tip into each beignet and squeeze the bag gently to fill the fritter with a small amount of jam. Sprinkle each beignet with powdered sugar. 
Yield:
Tell me about your Fat Tuesday or Mardi Gras traditions in the comments!!! I'd love some more ideas!!
---
Share this post
---
---