Corvallis Coat Rack with Floating Shelf by KeoDecor
Posted by admin on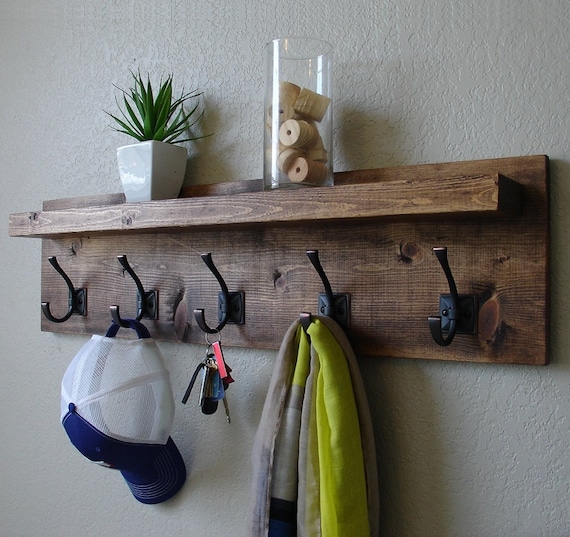 165.00 USD
Modern meets rustic in this handmade coat rack with dark bronze hooks. Perfect for any home or apartment.

Made from solid wood. It has been sanded down, then stained and sealed with a beautiful Early American finish.

This piece does not include the accessory items as shown in the pictures.

The color of the stained wood captured in the photos might vary slightly.

Dimensions: 34 in wide x 9.25 in tall x 4.25 in deep (shelf 3.5 in deep x 32 in long)

Keyhole hangers are installed on the back with heavy duty mounting screws and anchors included for easy installation.

Recent Review: "Great customer service and quick shipping considering! Very well made and sturdy, very happy with the purchase. Thanks again!" & "Love this, love the maker. The shipping was quick considering how beautifully handmade it is. Please keep that in mind, this is an artist who makes beautiful items specifically for you and then ships them, it's not Target with 1,000 of them sitting there ready to go. This was fabulously made, and quickly shipped and we are grateful! We bought 2 and I LOVE them!! Thank you so much!"
---
Share this post
---
---