Classic Beef Stew with Root Vegetables
Posted by admin on
by Aimee
A simple, classic beef stew with root vegetables, full of flavour and served up family style.
This dish really needs very little introduction. Its a big pot of comforting beef stew, featuring a good balance of meat and vegetables.
Two cookbooks and a decade of recipe writing, Ive never shared a beef stew recipe. Why now? Because my children are asking for my method and Im finally putting it down in writing.
Stew should be simple, and this one is just that, with a whole lot of well-rounded flavour.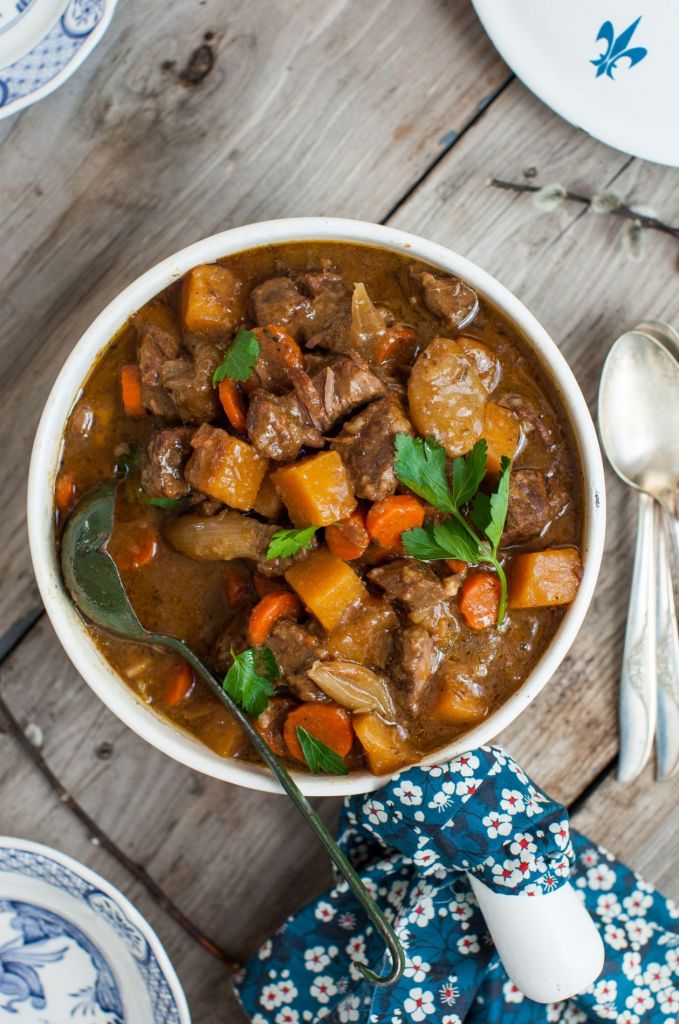 This winter, my children have been leaning hard into beef stew. Maybe its because were eating less meat, so when it shows up at the table, theres a greater appreciation?
Perhaps the fact that my teen/tweens are growing like crazy, and that influences the speed with which they clean their bowls. Either way, when they walk in the door from school and smell a beef stew in the oven, there are a few whoops.
And so at their request, I measure and scratch down notes as I cook. I estimate cooking times and I write this recipe for them, and for you.
Classic Beef Stew with Root Vegetables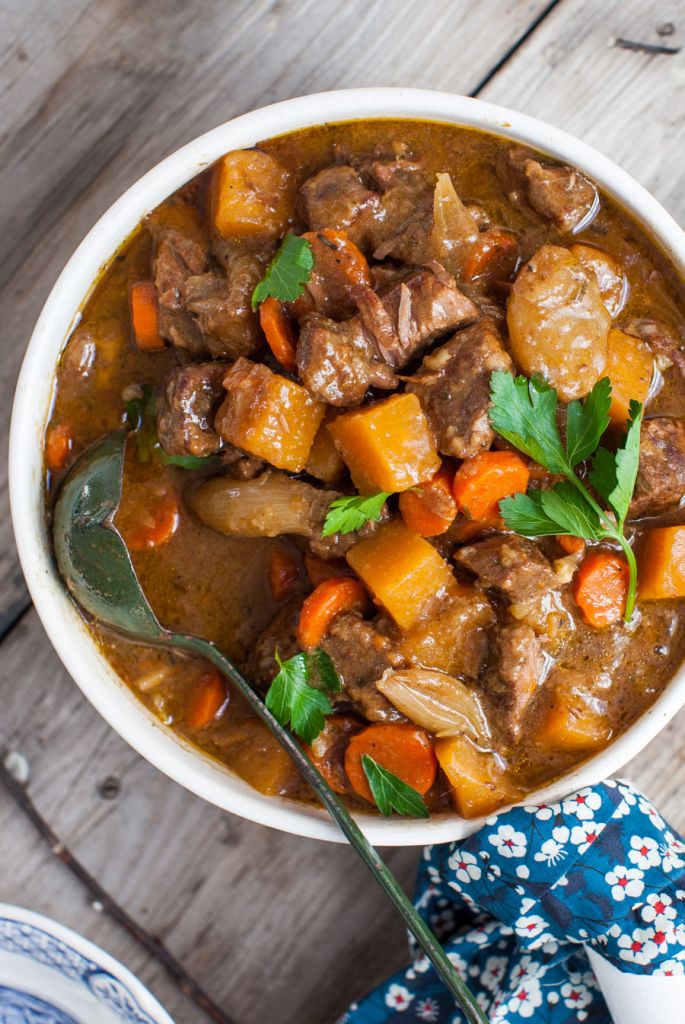 Ive always thrown a beef stew together by feel: season, flour and brown the meat. Add vegetables and aromatics. Cover with stock. Simmer on the stove or in the oven until tender. Season again and serve.
This beef stew isnt much more complicated than that. The ingredients and method may seem long at first, but once you make the recipe a few times, youll soon be cooking it by feel, too.
Who doesnt love a recipe that is easily adaptable? I make many variations on this stew, featuring moose meat, venison or lamb. And around March 17, Ill make it with Guinness instead of red wine.
Feel free to use up any root vegetables you have on hand. I adore parsnip in my stew, but buttery rutabaga is our family favourite.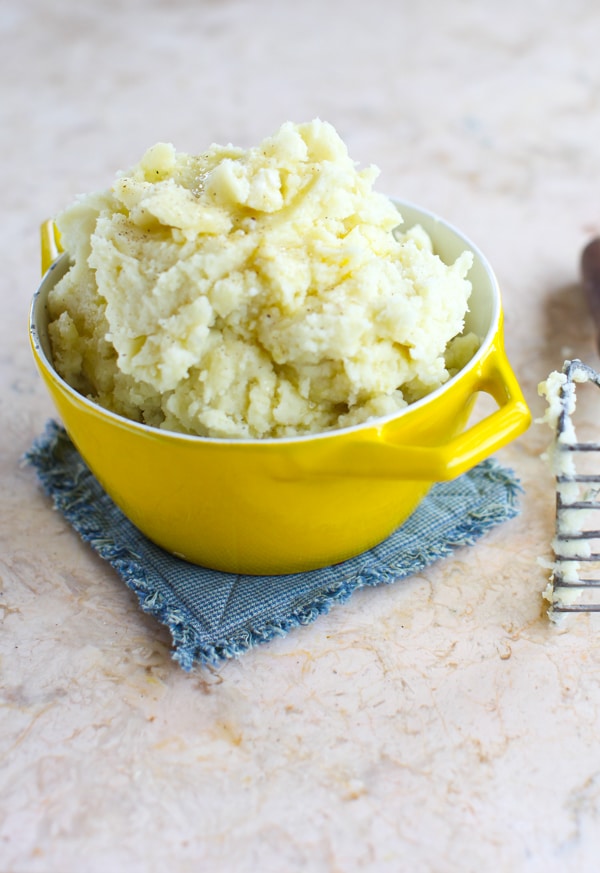 Sides for Stew: Serve the stew with Cheesy Irish Soda Scones or a crusty baguette. Our ultimate comfort food meal is a pot of beef stew with a side of the best mashed potatoes.
Do Ahead Tip: This stew is even better on the second day, so consider making it in advance. Its perfect for entertaining a crowd and scales up in batches very well.
Slow Cooker: And because I know people are going to ask, yes, you could make the beef stew in a slow cooker. However, since I already dirty a pot for searing, Im going to finish it in the oven in the same pot.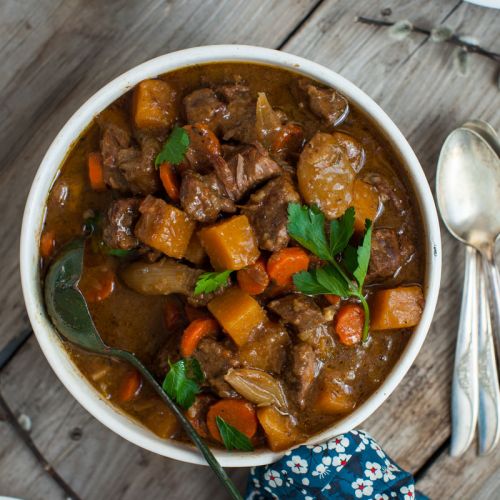 Print
Classic Beef Stew with Root Vegetables
A simple, classic beef stew with root vegetables, full of flavour and served up family style.
Ingredients
2

lbs

beef stew meat

1/3

cup

all-purpose flour

fine sea salt

black pepper

freshly ground

3

Tablespoons

olive oil

3

teaspoons

salted butter

3

cups

beef stock

divided

1/3

cup

red wine

or beer (optional)

6

French shallots

peeled and halved

2

small

onions

peeled, cut into 8

1

teaspoon

fresh thyme leaves

or 1/2 teaspoon, dried

1/2

teaspoon

dried rosemary

crumbled

2

cloves

garlic

minced

1

lb

rutabaga

peeled and cut in 1-inch cubes

3

medium

carrots

peeled and cut into coins

1

teaspoon

Dijon mustard

1

Tablespoon

Worcestershire sauce
Instructions
Preheat the oven to 275F. Adjust oven rack to bottom third so that your pot and lid fit easily. Have your vegetables prepped and ready to go.

Place the beef on a tray. Pat the beef dry with a clean kitchen rag or paper towel. Stir in 1 teaspoon each fine sea salt and freshly ground black pepper to the flour. Sprinkle 4 Tablespoons of seasoned flour over the beef. Using clean hands or tongs, toss the beef thoroughly in the flour, making sure it is well-coated.

Over medium heat, melt 1 Tablespoon olive oil and 1 teaspoon butter together in a large Dutch oven with a tight fitting lid. (I usually use an Le Creuset enameled cast iron 3.5 qt braiser.) When the butter is bubbling, add half the beef and brown the meat all over, turning each piece with tongs. It should sizzle when added.

When the beef is browned on all sides, transfer it to a clean bowl. Pour about 1/2 cup of beef stock into the pan to deglaze; scrape the bottom with a firm rubber spatula to get up all the browned bits. Pour this gravy over the browned beef.

Set the pan back over medium heat. Repeat steps 2 and 3 with remaining beef, this time, deglazing with the red wine. Transfer to a bowl.

Over medium heat, melt together the final teaspoon of butter and a tablespoon of olive oil in the pot. Tumble in the shallots and onion. Saut for 2 minutes. Sprinkle over the dried herbs and garlic; add the rutabaga, carrots as well. Saute for 3-4 minutes until the vegetables have softened around the edges. Sprinkle remaining seasoned flour over the vegetables (about 2 Tablespoons) and stir well to coat. Cook for about a minute, then pour in the remaining beef stock. Scrape the bottom well.

Return the beef and all juices to the pot. Add Dijon and Worchestershire. Stir well. The stock should just barely cover the meat and vegetables. Cover the pot with a tight fitting lid and place in the oven.

Slow braise the stew for 3 hours. Remove the lid and cook for an additional hour. Allow the stew to cool for about 15 minutes before serving. It will thicken slightly as it cools. Season generously with additional salt and pepper, tasting each time.

Serve with crusty bread and butter or a mountain of mashed potatoes.
Notes
Tips: brown the beef well. Dont overcrowd it. This is where you are building flavour, and its worth taking the time to brown the beef on all sides.
Wine is optional; you can deglaze with stock, but it adds flavour. Could also use beer or a strong apple cider.
For an extra decadent stew, swirl in 2 tablespoons butter when the dish comes out of the oven.
Nutrition
Calories:
307
kcal
|
Carbohydrates:
17
g
|
Protein:
29
g
|
Fat:
13
g
|
Saturated Fat:
4
g
|
Cholesterol:
74
mg
|
Sodium:
340
mg
|
Potassium:
858
mg
|
Fiber:
3
g
|
Sugar:
6
g
|
Vitamin A:
3880
IU
|
Vitamin C:
17
mg
|
Calcium:
68
mg
|
Iron:
4
mg
Original article: Classic Beef Stew with Root Vegetables.
---
Share this post
---
---