Cinnamon Raisin Bread (Bread Machine)
Posted by admin on
I've been taking the time lately to bake my little heart out. Baking has always been my weakest point, so I figured there was no time like the present to start working on that. One of the biggest steps I made in this was getting my hands on a new bread machine. I've found that access to a machine to do most of the hands on parts of making bread dough has eased my fears.
This Cinnamon Raisin Bread is perfect as part of a wholesome breakfast. With allowing the machine to do most of the work and only a few minutes of actual hands-on time, this bread is a great guilt-free way to feel like you're indulging a bit.
Bread gets such a bad reputation these days, but when it comes down to it, in moderation (just as anything) your body needs a lot of what bread has in it. I made this bread a bit better-for-you by swapping out some of the sugars for natural sweetener blends. I also used a whole wheat white flour instead of a general all-purpose flour. Though either would work in a pinch!
I used the same basic method for making the swirl in this bread that I do for my cinnamon rolls. The best part is that it's way less messy since you're not having to cut the cinnamon rolls out. Instead you roll it all up and toss it into a loaf pan. Easy peasy!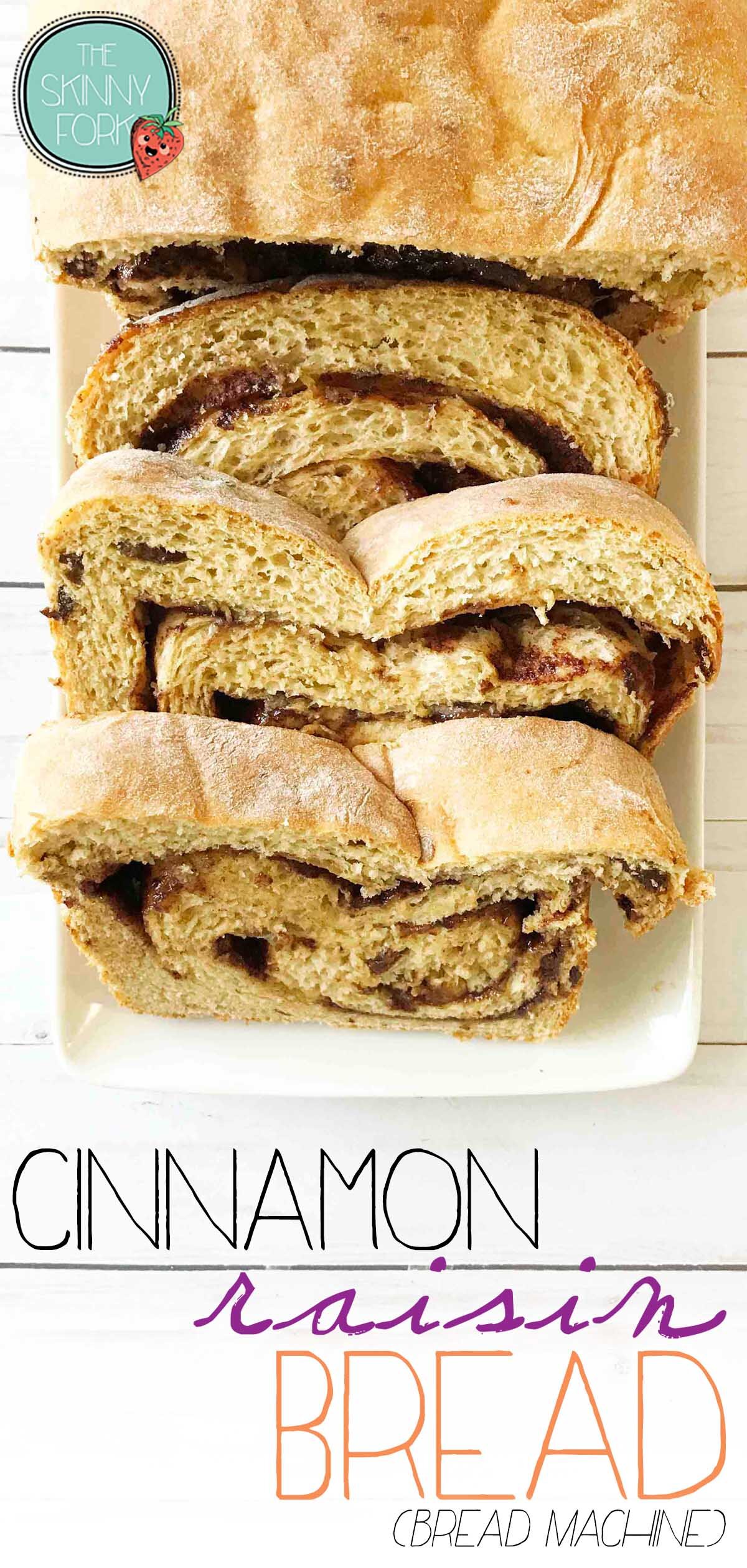 Cinnamon Raisin Bread (Bread Machine)
TheSkinnyFork.com
A sweet breakfast bread that's made with a cinnamon-sugar swirl and a few raisins mixed right in. Delicious and easy to make in any bread machine!
Prep Time:
10 Minutes •
Cook Time:
2 Hours
The Skinny:
Servings: 16
•
Serving Size: 1 Slice
•
Calories: 202
•
Fat: 8 g
•
Saturated Fat: 4 g
•
Carb: 29 g
•
Fiber: 2 g
•
Protein: 5 g
•
Sugar: 3 g
•
Sodium: 157 mg
Ingredients:
Bread:
•
1 C. Warm Milk
•
2 Tbsp. Brown Sugar
•
6 Tbsp. Butter
•
2 Whole Large Eggs
•
3 1/2 C. (17.5 Oz.) Flour
•
1 Tsp. Salt
•
2 1/4 Tsp. Yeast
•
1/2 C. Raisins
Filling:
•
6 Tbsp. Stevia/Brown Sugar Blend
•
2 Tbsp. Ground Cinnamon
•
3 Tbsp. Butter
Directions:
Place the ingredients into the base of a bread machine in the order that it is suggested by the manufacturer of that particular machine. (Mine goes in the order as listed in the ingredients.)

Close and set the bread machine to the 'dough' cycle.

Lightly coat the inside of a 9x5" loaf pan with non-stick baking spray and set aside.

Once the dough cycle has ended, turn the dough out onto a lightly floured surface.

Roll it out to be about 9x18" and top with the 6 Tbsp. brown sugar blend, 2 Tsp. cinnamon, and 3 Tbsp. butter.

Form/roll the dough into the prepared loaf pan.

Cover lightly with a tea towel and place in a warm place to allow it to rise for 30 minutes to an hour.

Once the dough has risen (to about twice it's size), preheat the oven to 375 degrees F.

Place the loaf pan into the oven and bake for 45-50 minutes or until the top is brown and the bread is cooked through.

Remove from the oven and allow to cool for at least 30 minutes before removing to a wire rack to continue cooling.

When it's cool enough to handle, slice into 16 pieces and enjoy!
Step-by-Step Photos:
Nutritional Claims: Low Potassium • Kidney Friendly • Vegetarian •Pescatarian • Peanut Free • Soy Free • Fish Free • Shellfish Free • Pork Free • Red Meat Free • Crustacean Free • Celery Free • Mustard Free • Sesame Free • Lupine Free • Mollusk Free • Alcohol Free • Kosher
---
Share this post
---
---