Cherry Almond Muffins
Posted by admin on
These cherry almond muffins are packed with fresh cherries and almond flour, with the crunch of sliced almonds and turbinado sugar on top!
Cherry season is a fleeting one, which means I end up buying the equivalent to my body weight in cherries when they appear at the store. Also, I weigh more than I look, so yes, that is a lot of cherries. And after I've gorged myself on cherries, I look to way to make use of them before they go bad. That means I'm making cherry slab pies, cherry buckle with cocoa cinnamon crumb topping, and my favorite cherry, plum and peach cobbler. But with the huge amount of cherries I had in the house, I figure it was time I made cherry almond muffins, one of my favorite muffins!
How do you make this muffin
Making these cherry muffins is super easy, with the most time consuming part being pitting all the cherries.
Pit and halve the cherries. You can do this with a cherry pitter or you can do it by hand with a small paring knife. Drizzle a little balsamic vinegar over the cherries and set aside.
Whisk together the dry ingredients of flour, almond meal (or almond flour), baking powder, baking soda, and salt in a large bowl. Then combine the wet ingredients by mixing together plain yogurt, sugar, melted butter, vanilla, almond extract, and eggs. 
Make an indention or "well" in the middle of the dry ingredients. Pour the wet ingredients into the bowl, then fold the mixture until most of the dry ingredients are absorbed. Add the cherries and chopped almonds, then continue to fold until they are evenly distributed.
Divide the batter into 2 different greased muffin tins, alternating between each cup. Sprinkle the top with sliced almonds and turbinado sugar. Bake, let cool in the pan for 5 minutes, then remove to a wire rack to cool completely.
What's the best way to pit cherries?
Though I normally hate single use devices in the kitchen, I actually love my OXO cherry pitter (<- affiliate link). I tested various cherry pitters for an article I wrote for Simply Recipes so I can say it's a great pitter in the myriad of pitters available. But if you love cherries like I do, and buy as many cherries I do, you can also invest in a hopper style cherry pitter (<- affiliate link) that allows you to pit fruit fast super fast.
That said, if you don't have a cherry pitter, you can just pit cherries by using a paring knife and slicing the cherry in half by cutting into the cherry and slicing around the pit. Twist to remove one side of the cherry. Then dig the pit out with your finger. Once you get in the rhythm of it, it goes pretty fast. Just be sure to wear an apron or a dark shirt, as you might get cherry juice spraying over you as you pit them all.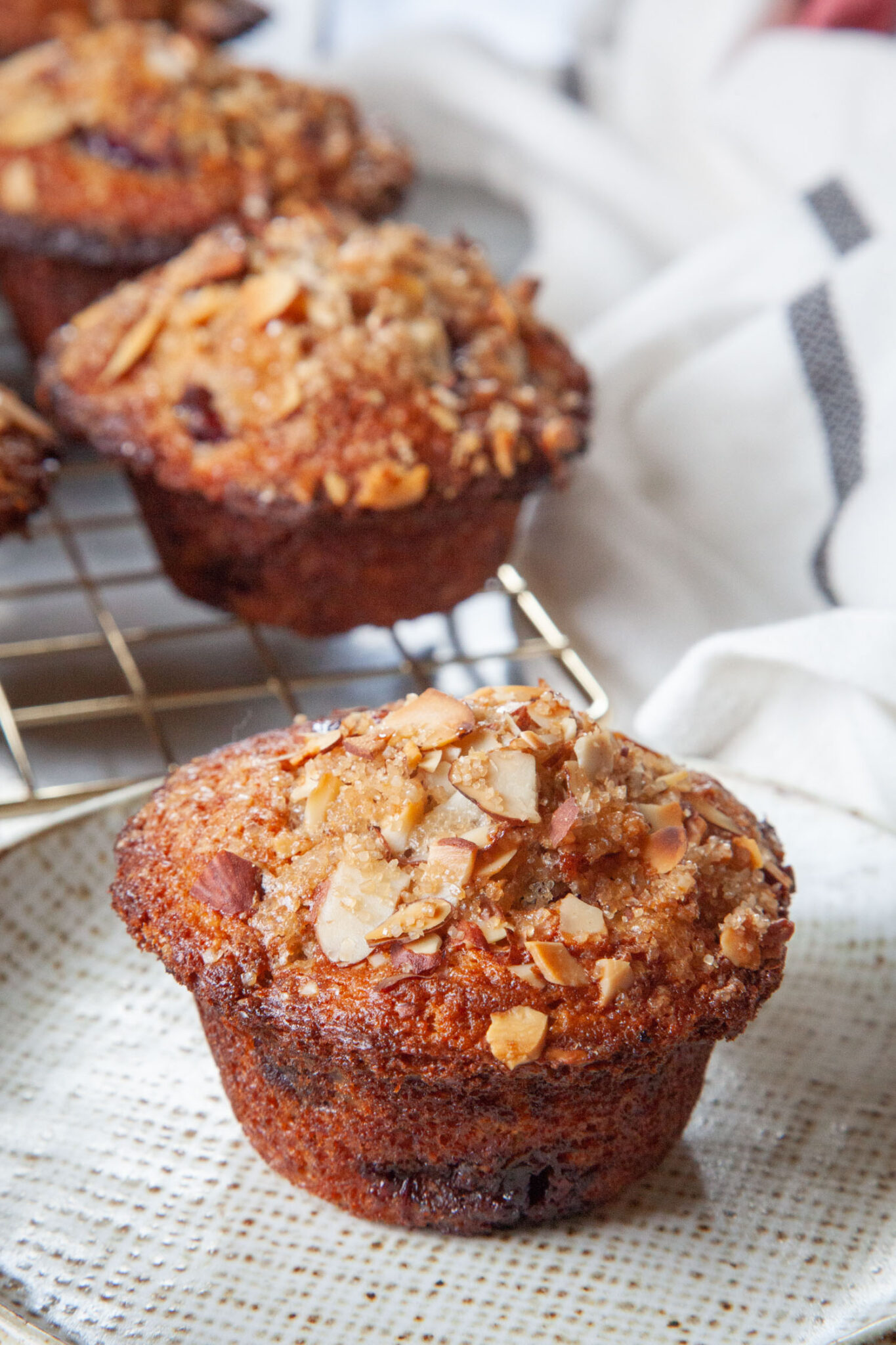 Why two pans? Can I bake in one?
I bake my muffins in two different muffin pans. This allows the heat to circulate better around each muffin cup, and results in an even rise and a high domed top. It's the secret to "bakery-style" muffins. 
That said, you can totally bake all 12 muffins in one pan if you find it too fussy to bake it in two batches. Just fill each cup with batter and bake as directed. Or, if you only have one muffin pan but want the coveted high dome top that makes muffins look like they came from a bakery, just bake half the batter in the one muffin pan, let the muffins cool for 5 minutes, remove them from the pan, and let the pan cool an additional 10 minutes. Wipe the muffin tin out with a paper towel (no need to wash it) and then spray with cooking oil and fill again with the remaining batter. Bake as directed.
How do you store these muffins
These muffins keep for 2 to 3 days at room temperature. Store them in an airtight container or under a cake dome to help prevent them getting stale.
You can also place them in a resealable Ziplock bag and store in the fridge for up to a week or freeze them for up to 2 months. Thaw the muffin to room before serving or reheat them in the microwave, with 15 to 20 second bursts of cook time, until they are thawed and warmed up.
Can you substitute the almonds/almond meal for another nut or omit them?
Yes. If you don't like almonds or want to use another nut, feel free to substitute for the same amount. You can also take half a cup of the whole nut and process it in a food processor or blender until it turns to powder. Then use that in place of the almond meal. 
If you are allergic to nuts or don't like nuts, just omit the nuts entirely and substitute the almond meal with 1/4 cup of all-purpose flour, making the total flour amount 2 cups. Bake as directed.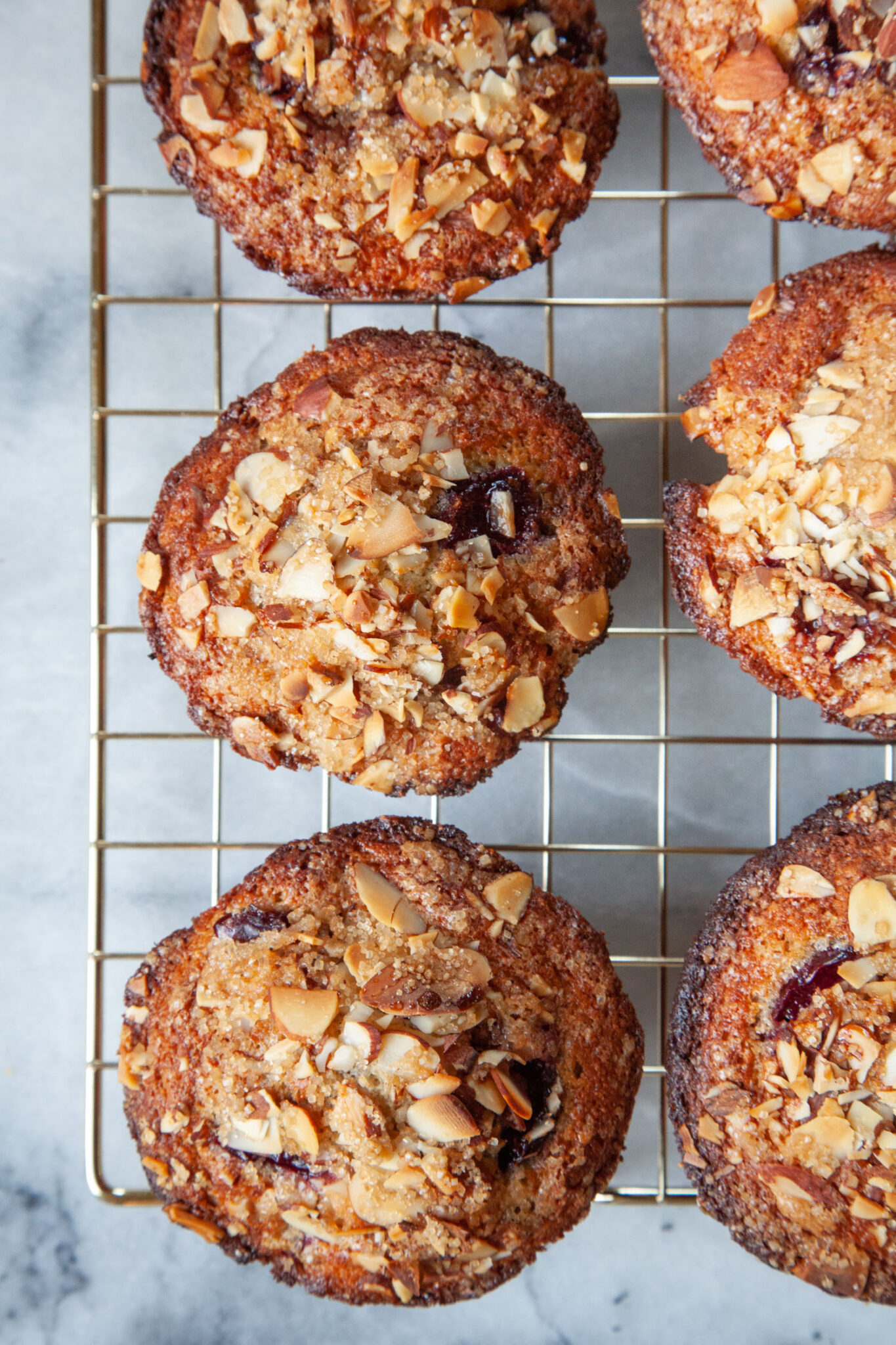 If you like these cherry almond muffins, check out these other breakfast pastry recipes:
Print
Cherry Almond Muffins
These cherry almond muffins are packed with fresh sweet cherries and nutty crunchy almond. To give them that bakery-style domed top, I bake them in two different muffin tins, alternating cups. This allows them to rise more evenly with greater oven spring. If you don't have two muffin tins or just want to bake them all at once, feel free to use one muffin pan and bake as directed. See my section above for how to still get them bakery-style with just one muffin pan.
Keyword
almond, cherry, muffin
Ingredients
2

cups

pitted cherries

halved

1

teaspoon

balsamic vinegar

1 3/4

cup

all-purpose flour

245 g

1/2

cup

almond flour

60 g

2

teaspoons

baking powder

3/4

teaspoon

baking soda

1/2

teaspoon

kosher salt

1

cup

plain yogurt

250 g

3/4

cup

white sugar

150 g

1/2

cup

unsalted butter, melted

115 g or 1 stick

2

teaspoon

vanilla extract

1/2

teaspoon

almond extract

3

large eggs
Topping
1/2

cup

sliced almonds

50 g

2

tablespoons

turbinado sugar or white sugar
Instructions
Preheat the oven to 400°F.

Place the pitted cherry halves in a bowl. Sprinkle balsamic vinegar over them and toss to coat. Set aside.

Place the flour, almond flour, baking powder, baking soda and salt in a large bowl. Stir together with a balloon whisk until all the dry ingredients are evenly distributed.

Place the yogurt, sugar, butter, vanilla, almond extract, and eggs in a different bowl. Beat together with a whisk until uniform in color.

Make an indention or "well" in the middle of the dry ingredients and pour the wet ingredients into it. Fold and stir the ingredients together until the dry ingredients are mostly absorbed. Add the pitted cherries then continue to fold, until the cherries and almonds are uniformly distributed. Do not over mix. A few dry spots in the batter is ok.

Spray alternating cups in two muffin tins with cooking oil. Or line alternating cups with cupcake liners.

Divide the batter into the muffin pans. The batter will fill each muffin cup almost to the top.

Use your fingers to break apart the sliced almonds. Sprinkle some sliced almonds and turbinado sugar on the top of each muffin. Place one pan in the oven, baking for 18 to 20 minutes, or until a toothpick inserted in the middle comes out clean (test a few spots in cases it hits a cherry). Repeat with the other muffin pan.

Let the muffins rest in the pan for 5 minutes, then carefully remove them from the pan and place them on a wire cooling rack to cool completely.
Nutrition
Calories:
267
kcal
|
Carbohydrates:
34.7
g
|
Protein:
6.1
g
|
Fat:
12
g
|
Saturated Fat:
5.7
g
|
Cholesterol:
68
mg
|
Sodium:
264
mg
|
Potassium:
253
mg
|
Fiber:
1.6
g
|
Sugar:
19
g
|
Calcium:
103
mg
|
Iron:
1
mg
The post Cherry Almond Muffins appeared first on Eat The Love.
---
Share this post
---
---