9 Home Renovations to Ask Santa for This Year
Posted by admin on
Are you struggling to choose what to ask Santa for this year? If you've been really good, he might bring you the home renovation you've been longing for. A fresh coat of paint on the walls or new flooring will give your house a much-needed refresh heading into the new year.  
Why Complete Renovations This Winter
Winter is an off-season for building projects, so supply in most areas will be much higher than demand. You'll benefit from lower material costs, and you're more likely to secure a good contractor or other professional if you go that route. These workers book up quickly in the summer, leaving you waiting months for availability.
The colder months also drive you inside for extended periods, making you acutely aware of any areas you want to improve. You may not notice the scuffed paint, chipped countertop or broken banister in the summer. Now they seem like a glaring eyesore. Tackle these projects now so you can return to exterior projects once the weather grows warm.
Start by Establishing Your Budget and Scope
An essential first step is to determine the budget and scope of your home renovation plans. You may have a mile-long wishlist, but you'll need to be selective so you don't blow all your savings. Select projects that'll give you the most bang for your buck or add the greatest value to your home.
Once you've locked in your budget and selected the home renovations you want to tackle, it's time to get specific. Make a list of all the tasks you'll need to complete or have professional help with. Then write out the necessary materials. When you're all done, you'll have everything you need to keep everyone on the same page with your projects and ensure you don't miss any crucial details.
Choose the Perfect Winter Projects
Any of these home renovations would be a welcome addition to your Christmas stocking. Assess your needs and add favorites to your letter to Santa this year. Estimated cost and return on investment (ROI) data comes from the 2022 Remodeling Impact Report from the National Association of Realtors (NAR) and the National Association of the Remodeling Industry.
1.    Paint Interior Walls
An interior paint job is one of the cheapest home upgrades you could ask for this year. You can refresh a room or tackle the whole house, depending on your budget. Neutral and cool colors will increase your home's value the most, along with light blue bathrooms and taupe living rooms. You also can't go wrong with a fresh white.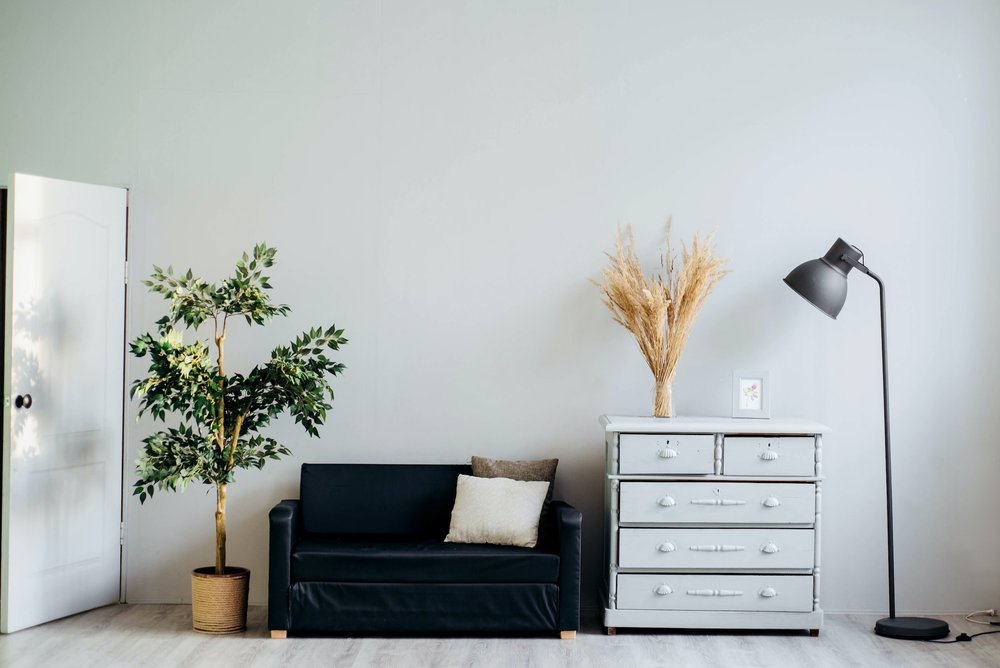 While you're at it, why not repaint your front door? Adding a dark gray or black tone to your entrance can add over $6,000 to your home's value. 
Estimated cost: $1-$4 per square foot
Estimated ROI: no current data available
2.    Refinishing or Installing Wood Flooring
Refinishing or installing hardwood flooring has the top ROI of any interior home renovation this year. You're in luck if you already have wood floors. Rent a sander and refinish them yourself or hire some help. If you aren't one of the lucky ones who already have hardwoods, you can pay extra to get them installed. Either way, your return will be far greater than what you put in, and your floors will be a statement to show off to winter guests.
Estimated cost to refinish: $3,400
Estimated ROI on refinishing: 147%
Estimated cost to install: $5,500
Estimated ROI on installation: 118%
3.    Garage Makeover
Your garage door is an integral part of this area's functionality and a safety feature for your home. If yours is in disrepair, you're leaving yourself vulnerable to theft and damage from animals or weather. Replace your old door to keep your family and belongings safe and keep your heating and cooling where it belongs — inside.
Seal the floor once you've improved the conditions inside your garage. It will function better, and you can add storage and even create a workshop or home gym in part of the space.
Estimated cost: $2,000 to $5,800
Estimated ROI: 100%
4.    Add or Replace Insulation
Jack Frost's arrival will make you painfully aware of your insulation's integrity and quality. Now's the time to check for areas that need additional work or an upgrade. You should start looking for mouse- or insect-damaged pieces in your home's crawl space or attic. Unfortunately, you may even find areas missing insulation altogether.
If you live in an older home, odds are it could also use upgraded wall insulation. Have a professional come in to add an energy-efficient spray foam.  
Estimated cost: $2,500 - $5,250
Estimated ROI: 100%
5.    Roof Replacement or Repair
It's essential to check on the condition of your roof before winter, especially if you live in a region that gets snow. The heavy white stuff will cause an already damaged roof to leak into your home. Stop it before it becomes a problem.
Hire a professional roofer to inspect yours for damage. If they find only a few weak spots, you can patch them. More extensive repairs will require a total reroofing. Your contractor will rip up the old roof and lay a completely new one down. You'll need to decide on your preferred materials — shingles, tiles, metal or other.
Estimated cost: $12,000 - $18,000
Estimated ROI: 100%
6.    Bathroom Remodel
Bathroom remodels are a popular use of renovation budgets. However, it tends to add up quickly. A fresh coat of paint goes a long way. You can also update the vanity by replacing it or sanding, painting and adding new hardware to the existing one. Other items to upgrade are the vanity counter and lighting. The toilet and a tile surround for the shower are some more expensive upgrades. Stick to neutral colors to add resale value to your home.
Estimated cost: $35,000 - $75,000 (Depending on square footage)
Estimated ROI: 71%
7.    Kitchen Renovation
Depending on age and condition, your kitchen may need sprucing up or a complete overhaul. Your budget will also be a significant determinant of your project's scope.
Save money by sanding and painting your cabinets and adding updated hardware to freshen the look. Replacing your faucet is another relatively cheap update. Add a fresh coat of paint and a new backsplash to finish your kitchen update.
For a more intense project, replace the flooring with hardwood or something more scratch-resistant, like luxury vinyl planks. New cabinetry and stone countertops will add an air of sophistication and bring your kitchen up to date. Add efficiency with Energy Star appliances. By the time you're through, you won't even recognize the place. You'll have a brand new kitchen to gather the family in during the long, cold winter months.
Estimated cost to overhaul: $85,000 - $122,000 (Depending on square footage)
Estimated ROI on overhaul: 75%
Estimated cost to update: $45,000 - $58,500
Estimated ROI on update: 67%
8.    Finish the Attic or Basement
Take full advantage of every ounce of square footage in your home by finishing off your basement or attic. These renovations will be more extensive, especially if you need to run electricity and plumbing throughout. Work with a trustworthy contractor to help design and complete your dream expansion. The attic is perfect for a bonus room, bathroom or even another bedroom. Basements are ideal for a theater, home gym and game room.
Estimated cost for basement: $57,500
Estimated ROI on basement: 86%
Estimated cost for attic: $100,000
Estimated ROI on attic: 75%
9.    Revamp Your Closets
You're going to need some room for all your new Christmas clothing. Pull down any basic wire rack storage and cheap hanging bars and give yourself a closet makeover. Add built-in storage designed with your needs in mind. Consider how much room you need for hanging and folding clothing. Do you need storage for accessories? Now is the time to go all out and make the closet of your dreams.
Estimated cost: $6,000
Estimated ROI: 86%
'Tis the Season for Home Renovations
You can get started on a home renovation project or two this winter with some inspiration from the holly jolly man in red. Make good use of all this time you have stuck inside, either on a DIY or working with a skilled professional to transform your home's most challenging areas. When spring rolls around and you can head outside again, you may not want to leave.
---
Share this post
---
---