18 Ways To Utilize String Lights In Your Bedroom
Posted by admin on
Sometimes the simplest additions are the best kept secrets. This goes for fashion, for beauty, and for interior design too. One box of string lights can go a really long way when it comes to personalizing your bedroom. And here, weve gathered 18 different ways to utilize them in your bedroom. Take a scroll through the ideas below!
1. Headboard Garland
Pair your string lights with some fabric garland. This will punch up the femininity and whimsy without too much fuss. THeres more inspiration like this that can be found with our friends at Homedit.
2. Bed Canopy
Apartment Therapyshows off how to pair those string lights with your bed canopy. A light fabric and some sparkling white twinkles come together to create a romantic and warm space for you to enjoy. This is especially nice to utilize in a dorm room.
3. Heart-Shaped
Of course you can create some wall art out of them as well. We found this heart-shaped piece while perusing with our friends at Decoist. Even the most novice of crafters can make this happen.
4. Wrap-Around
Were really digging these larger string lights found at House Beautiful. Use them to wrap around your headboard for a breath of fresh air and some extra lighting while you read at night. Again, even the most novice crafters, DIYers, and designers can make this happen.
5. Photo Hangs
We really love this idea for dorm rooms or teenage bedrooms. Grab some clothespins to hang some of your favorite memories or Insta snapshots. Check it out at We Heart It.
6. Tapestry
Over at Dormifyyoull find some more magical inspiration. Instead of cloth tapestries, think about using your string lights in tapestry form. Hop on over now and see how they made it happen.
7. Bedside Table
Even your bedside table could get some twinkly lights as their functional makeover. Not only are you adding light to your nightly routine but a bout of personality too. Check out more inspo like this by visiting Homedit.
8. Circling the Mirror
Lady Scorpio 101has a lot of wonderfully innovative ideas and this is one of them! Have you ever thought about adding some extra whimsy to you vanity area or chest of drawers. Well, you can easily do that too.
9. Ceiling
Talk Decorwent with a ceiling installation for their string lights. We love how it gives this kids bedroom a pop of extra pizzazz and an illusion of being outside. Grab more details on the how-to after the jump.
10. With Flowers
Urban Outfittersshowcased a quick peek of how a customer paired their floral garland with string lights and we love it! You can hang this one the wall for textural reasons, wrap it around a headboard, or cover the top of your dresser with it!
11. All Around
You can easily outline your bedroom with some string lights as well. It amps up the lighting and the romance without breaking the bank. Take the leap to Home Trendingsfor a closer look.
12. Gallery Wall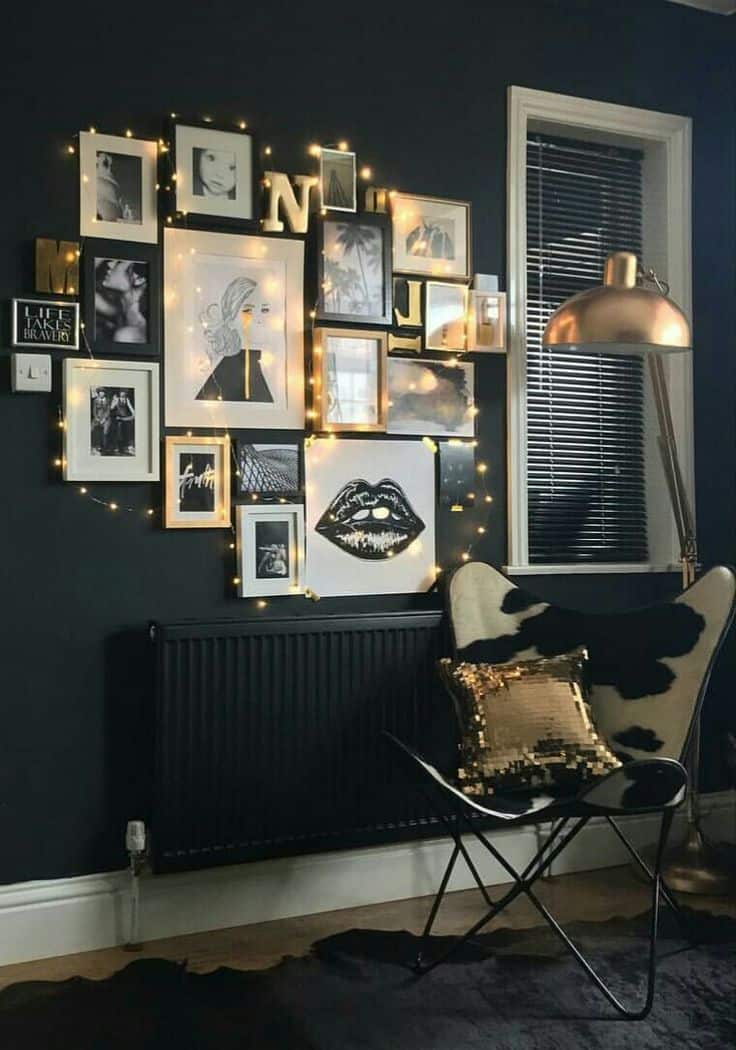 Pinterestalways has the more unique and innovative ideas and were living for this one! If you already have a gallery wall installed, highlight it even more by wrapping some twinkle lights around the design. It really helps to create a focus.
13. Scalloped
Head on over to Talk Decorfor a peek at this scene. We love how the designers decided to scallop the sting lights near the ceiling. It gives the illusion of more height and adds that bout of whimsy we love.
14. Outlines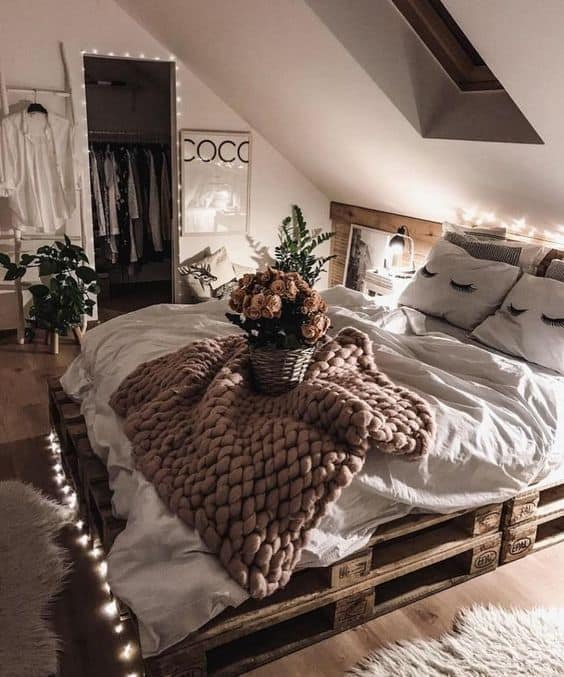 We found some more outlined pieces at FOURLINE DESIGN. If you take a closer look, youll see how string lights were used to highlight the closer door and the bed. Again, this is just another easy-to-install option to take a peek at.
15. Hello
Similar to the heart we saw above, this idea Dormifycould help make a personalized difference in your bedroom as well. Map out hello or even your name if youre feeling extra creative! It helps with lighting, ambiance, and interest on the walls.
16. Ladder
A Beautiful Messadded some string lights to a ladder in the corner. This idea can easily be adapted to a bookshelf or coat rack that may be nearby. It helps especially if its already a bare piece that needed some fluffing.
17. Slanted
For rooms with a unique shape, highlight it! Make that slanted or dropped ceiling a point of interest by outlining it with the string light you have on hand. We found this fun peek at Pinterest.
18. Intertwined with Standing Mirror
And finally, we found this corner at Knot and Nest Designs. Your stand-up mirrors could use an extra punch of light as well. Wrap your mirror in twinkle lights especially if your room doesnt get great lighting!
The post 18 Ways To Utilize String Lights In Your Bedroom appeared first on DIYs.com.
---
Share this post
---
---