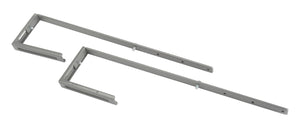 Displays2go Wall Hangers, Hooks for Wall Mount Fixtures, 12", Gray Steel (HANGERGRY)
Brand: Displays2go
Color: Gray
Features:
Includes a total of 20 wall hangers, for mounting 10 items to a cubicle
Made from powder coated steel. Choose from 5 colors!
Each cubicle hook has 4 holes for choosing the hang height of fixtures. Each hook measures 12" long
Great alternative to mounting objects on a wall or door
Displays2go SKU#: HANGERGRY
Publisher: George Patton Associates, Inc
Release Date: 23-07-2015
Details: These cubicle wall hangers are designed for suspending wall or door-mounted fixtures in a cubicle. Each cubicle hook has 4 hooks for determining the height at which each fixture is hung. Each cubicle hanger measures 12-inch long with a depth of 3-inch . You will receive a set of 20 hooks. Choose from 5 color styles! Offered in black, gray, putty (light gray), tan, and white. Each cube hook is made from quality powder coated steel. Overall dimensions: 0.5-inch (W) x 12-inch (H) x 3-inch (D). Weight: 0.3 lbs.
UPC: 840844122281
EAN: 840844122281
Package Dimensions: 16.3 x 7.2 x 7.1 inches