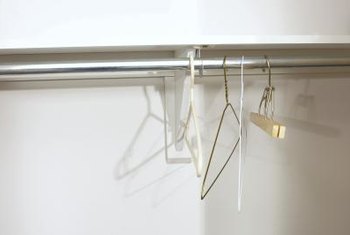 Clean Slate
Clean out the closet. Warning, if you haven't cleaned your closet in years, this might involve heavy machinery and a HAZMAT team. Throw out what no one can use. Re-purpose anything of value, for instance, old T-shirts can now be cleaning rags. If clothes are too snug or too loose, either have them tailored or donate the clothes to someone who could use them. Look at what you have left and ask yourself how you want to store it. Organizing a closet is a chore, but a clean and organized closet can help you get ready for the day faster and more efficiently. Closet systems will offer shelves, drawers and rods in a variety of colors, materials and configurations.
Create Your Ideal Closet
The goal in choosing a closet organizer is to create the system that best suits your needs. Some closet manufacturers offer online tools that allow you to configure their products into your dream closet. However, you can still sketch out your design on paper, old-school. Regardless of which option you choose, both drawings should include the dimensions of the closet. You will need the height, the depth and the width. Create your dream closet and get the price for each feature. If you need to scale back the cost, either eliminate a feature or change the material. The systems will either be wood, plastic, metal wire or a combination of the three. Plastic, wood and wire shelves are widely available at home improvement and home decor stores and all can be custom-made by a professional closet organizer or put together according to package instructions.
Research
Research your options. Read product reviews, browse on line forums about manufacturers and their offerings and ask your friends about their closet likes and dislikes. Weigh the pros and cons of installing the system yourself or opting for a professional.
Where to Buy
There are many different kinds of closets and just as many different kind of closet organizers. If money is no object, contact a professional who specializes in custom closet organization systems. If money is a concern and you are handy, you have several options. Peruse the options at retailers who specialize in home decor and organization. These stores have organization systems, ranging from inexpensive to pricey. Don't forget the behemoth home improvement stores. Not only will these stores have closet organizers, they will have lumber and supplies so you can build your own. If money is tight, check your local furniture consignment shops or thrift stores such as Thrift Town and Salvation Army. You can also stay at home and look at the free and household sale sections on Craigslist or the newspaper or online classifieds.